Registrations for Snow Leopards of Ladakh are now closed. Please join us on our popular
Snow Leopard trail in Spiti
on March 03-17, 2018.
In the high mountains of the Himalayan realm rules a mysterious cat. Stealthy. Powerful. Legendary. And Endangered. It is the grey ghost – The Snow Leopard (Panthera uncia)!

This winter, join Darter Photography on an adventure to the Himalayan realm of Ladakh. Temperatures plummet way below freezing and a white blanket of snow covers most parts of this primeval landscape. The herbivores descend from the highest reaches of the mountains in search of food and water. And, following its prey, so does the Snow Leopard.

Join us on this adventure through some of the most breathtaking landscapes while travelling in one of the harshest terrains of the world. Photograph the diverse wildlife that survives in this extreme habitat. And possibly lose yourself in the hypnotic stare of the grey ghost of the mountains – the Snow Leopard!

Jump to ◆ Itinerary ◆ Tour Highlights ◆ FAQs ◆ Tour Price ◆ Tour Mentor ◆ Detailed Itinerary ◆ Previous Tour Reports ◆ Sign Up

Darter's Wildlife Unexplored photography tours are designed to photograph rare wildlife and push the boundaries of wildlife exploration in remote regions.

Tour Dates

Jan 25 to Feb 04, 2018
Registrations Closed


---

Price

₹1,26,250/-

Max. Participants – 6

---
Dates & Itinerary

Tour Dates: January 25 to February 04, 2018

Day 01 Arrive in Leh. Acclimatize in hotel with central heating. Photography sessions in the day.

Day 02 Visit monasteries around Leh in the morning. Visit Shanti Stupa in the evening.

Day 03 Drive from Leh to Zingchen. Trek to Husing in Hemis National Park.

Day 04 to 07 Explore Zingchen, Husing, Rumbak for Snow Leopard and other wildlife. Plan would vary based on sighting records at the time of the tour.

Day 08 Trek back to Zingchen. Drive to Ulley or Saspochey (based on sightings)

Day 09 Explore around Ulley or Saspochey for Snow Leopard and other wildlife.

Day 10 Drive from Ulley to Saspochey to Leh.

Day 11 Depart form Leh

Scroll down to Detailed Itinerary for more details on each day of the tour.





Tour Highlights
Travel to one of the most remote regions in India (possibly on the planet too) in winter
Explore and photograph rare wildlife of the mountains in their snowy realm
Possibly see and photograph one of the world's most elusive cats – the endangered Snow Leopard
Drive through and photograph some of the most amazing landscapes filled with snow in the high regions of trans-Himalayas
Sessions and discussions on wildlife photography and wildlife in the high mountains
Constant interaction and assistance on field by photography experts in wildlife and landscape photography
Get your photographs reviewed by your photography mentors regularly through the tour
Frequently Asked Questions
This tour is for wildlife photographers and wildlife enthusiasts who want to explore the high altitude realm of Ladakh in winter for rare wildlife. Note that the participants are not required to be experts in photography or carry professional equipment. Due to the small group size, beginners as well as serious photographers benefit through our personalized attention to photography sessions and on field assistance. Non photographers interested in exploring wildlife of Winter Ladakh are welcome too.
How do we tackle the extreme cold weather?
During this tour, we may encounter temperatures as low as -25C or even lower. The only way to manage such low temperatures is to be very well equipped. We will send you a list of must-have equipment that will help you face the cold weather. When you are well-equipped, you should be able to fight the cold weather well after your body gets acclimatized in a day or two. There would still be some discomfort but nothing that would prevent you from actively enjoying the tour.
However, this tour is not recommended for those who are very sensitive to cold weather. Also, a reasonable degree of fitness (equivalent of being able to walk a few kilometers in normal conditions) is desirable for this long tour.
I am not a keen photographer. But I want to visit Ladakh with your group. Can I still join?
Yes. If you are interested to explore the pristine Himalayan landscapes and view rare alpine wildlife, you are welcome to join this tour.  Please note that we do not offer a separate non-photographer pricing.
Can I bring my non-photographer partner with me?
Yes, you can. We visit one of the most pristine landscapes in the country and actively look for rare wildlife. Your partner will enjoy the journey with the group. Please note that we do not offer a separate non-photographer pricing.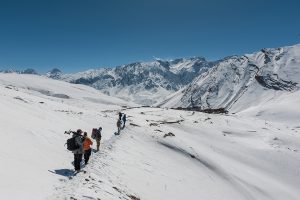 Is there a lot of walking/trekking involved?
To track the Snow Leopard, moderate walking (2-3 hours) may be required to reach places where wildlife sightings are reported. Basic fitness is required as we'll be at an altitude of over 14,000 feet. We believe that most people in good health should not have any problems with most of the activities through the tour. Please speak to us if you have any doubts.
What photography equipment is needed for the tour? Can we hire porters for carrying the equipment?
On this tour, we'll primarily focus on photographing wildlife of Ladakh. For this, telephoto lenses are recommended to photograph wildlife at a distance. We'll also be photographing landscapes and culture when the opportunities present themselves. Please talk to us to decide on the photography equipment that you need to carry for the tour.
If you need help in carrying your equipment during the tour, we can engage porters locally at an additional cost. Please write to us for details.
Also refer to our tours faq for more information.
Tour Price
Tour Price: Rs.1,26,250/- per person (inclusive of all applicable taxes)
The tour price includes

Accommodation on twin sharing basis at hotel in Leh. Basic camps/homestays elsewhere
Ground transportation during the tour
All meals (basic vegetarian food) during the tour
All permits and fees
Photography sessions, expert advice and assistance and image reviews during the tour
All applicable taxes
The tour price does not include
Travel to Leh from your location and back
Insurance
Additional food/snacks, bottled water or other beverages ordered
Anything else that is not part of the includes list above
Please note:
In addition to the above, please budget for expenses towards procuring cold weather gear that is required for travelling to Ladakh in winter. We will help you with the list of warm clothing that you need to carry for this tour.
The itinerary mentioned in this page is subject to favourable weather and road conditions. In case of bad weather and inaccessibility to a destination, we will do our best to make alternate plans. The tour price or any part of it will not be refunded in the event of unfavourable conditions anytime during the tour days.
Wildlife sightings depend on various factors, including weather, availability of food and the animal showing up in our vicinity (in the vast mountain landscapes).
No refunds will be made if a participant is unable to complete the tour owing to medical conditions or any other reasons, after starting the tour.
All participants would have to sign a Release of Liability, Assumption of Risk & Arbitration Agreement before joining the tour.
Wildlife Photography Mentor – Shreeram M V

Shreeram M V is a professional outdoor photographer, specializing in travel and wildlife photography. He is the co-founder of Darter Photography that specializes in providing photography services such as workshops and outdoor photography tours. He lives in Bangalore, India.
What started off as a fascination for birds in a lake behind his house turned into a journey to different parts of India. For this IIM Bangalore graduate, the passion for travel and wildlife enabled him to charter his own course outside the corporate world. He has explored places as diverse as the rainforests of the Western Ghats, the salt marshes of Kutch, the grasslands of Tal Chapar, the deciduous forests of South and Central India, the high-altitude plateau of Ladakh, the coasts of peninsular India, the forests of North-east India and the islands of Andaman.
Shreeram has spent a lot of time in the high Himalayas, photographing the magic of the vast landscapes and the unique wildlife that is seen here. See some of his work at Visual Quotient
Detailed Itinerary
Day 01. Arrival in Leh. Photography Sessions and Rest.
Arrive in Leh. Check in to the heated rooms at the hotel and relax during the day, getting acclimatized to high the altitude of the mountains.
We'll have an orientation session about the tour followed by sessions on wildlife photography and landscape photography this afternoon. Overnight in Leh.
Day 02. Visit to Monasteries and Shanti Stupa
We will venture out into the cold winter of Ladakh today, visiting a few monasteries not faraway from Leh. The outing will familiarize you with winter landscapes and weather. Expect to see a beautiful blue Indus River, partially frozen on either sides, flowing through mountains covered with snow. This is just a glimpse of more beautiful things to come. An evening visit to Shanti Stupa high up the town will give you panoramic views of Leh and some breathtaking views of Tsemo Gompa with the mountains around it as the sun goes down.
Day 03. Drive from Leh to Zingchen. Trek to Husing
Our Snow Leopard exploration starts today! We drive for an hour from Leh to reach Zingchen in Hemis National Park. Here, we gather our belongings and trek for around 1 1/2 hours to Husing where we set up camp. The actual walk is not far and the track isn't steep, but for some it will take a bit of effort at this altitude! Husing is a perfect location in a corridor linking three valleys where there is much evidence of Snow Leopard. After lunch at the camp spend the afternoon looking for Snow Leopards in the Tarbung area, returning to Husing tented camp for the night. This afternoon and the rest of the time in Hemis will remain flexible depending on the sightings of Snow Leopard, so you may move camp or have a night or two at a local homestay in Rumbak (a wonderful experience) when required, but expect most of the time to be under canvas.
Day 04 to Day 07. Exploration for Snow Leopard around Zingchen, Husing and Rumbak
The junction of Husing Nala and Tarbung Nala and local high ridges will be scanned; there will be a hike to a vantage point at Rumbak Sumdo and the area of the parachute café to scan for sightings. During this time you should see Chukar, White-winged Redstart, Lammergeier, Golden Eagle, Fire-fronted Serin (depending on dates), Himalayan Snowcock, Yellow-billed and Red-billed Choughs, Robin Accentor, Horned Lark, Tibetan Snowfinch, perhaps Eurasian Eagle Owl and a few other species. Look out for groups of Blue Sheep (Bharal), Mountain Weasel, Red Fox, Stone Marten and among the boulders on warmer days Royle's Pika often venture out. Overnight at Husing tented camp.
Note: depending on the tracks and signs of the Snow Leopard you might change camping site – there are up to three likely camping locations. The camp staff will arrange everything for you and your main bags will be transported by pony/mule so you just have to carry your optics and day bag.
Depending on sightings and the weather we may move location today to focus on the Rumbak area. The mountains around Rumbak are home to Asiatic Ibex, Ladakh Urial and Tibetan Argali, though these species can prove difficult here and are potentially easier to see at other locations outside of Hemis National Park which will be visited later in the tour. After breakfast, the trek to Rumbak village (again not that far) will take approximately 2 to 3 hours where we may camp or stay in a homestay for the night, or just return to the original camp. Further exploration today may take us to 4600m up towards Yurutse where it is possible to see Tibetan Argali, also known as Great Tibetan Sheep.
We'll continue our quest with more trekking, looking for tracks and signs, scanning the ridges and mountain-sides with telescopes and binoculars. Tibetan Wolf tracks and signs are likely with sightings possible, but more difficult. We will visit Husing Pass (4450 m) and scan from excellent vantage points on the pass. On another day we may hike for 3 – 4 hours towards Gandala base to look for Tibetan Argali in an area where the habitat is also good for Eurasian Lynx, Tibetan Wolf and Tibetan Partridge. Nights will be in tented camps.
Day 08. Husing to Zingchen to Ulley/Saspochey
After five nights in Hemis National Park we'll walk for about an hour down to Zingchen where the vehicles will be waiting take us to a different location, the area of Ulley or Saspochey, depending on Snow Leopard sightings. The drive will take you back along the Indus river. We'll explore Ulley/Saspochey for wildlife for the rest of the day.
Day 09. Exploration for the elusive Snow Leopard around Ulley/Saspochey
Our search for the elusive snow leopard will continue here. Snow Leopard Conservation estimate there are around 8 to 10 snow leopards locally and you'll have a good chance of Asiatic Ibex too. Birds locally may include Great Rosefinch, Brown Dipper and White-winged Redstart. Overnight at a homestay in Saspochey or Ulley.
Day 10. Drive from Ulley/Saspochey to Leh
This morning we will trek down to a location where Ibex are found in large numbers. After a packed or hot lunch we will drive back to Leh. Night at Hotel in Leh.

Day 11. Tour ends.
Nostalgia sets in as it's time to head back home. After breakfast, we say our goodbyes to travel back home.
Sign Up
Contact us at the email/numbers below to book the tour. In search of Snow Leopards – Wildlife Photography Tour of Ladakh in Winter will have a maximum of 6 participants. We recommend booking early, which also helps you get cheaper flight tickets.
email: photography@darter.in
Tel: +91-97400 83260 (Shreeram) / +91-98800 06460 (Arun)
Alternately, fill in the following form to get in touch with us regarding the tour.