Travel to the highlands of Ladakh in winter, when Ladakh is at its pristine best – with its snow-clad mountain landscapes, frozen lakes, resilient nomads with their herds of sheep and yaks and endless fields of snow. Explore photography on the roof of India on this mentored photography tour in a season when the earth is covered in a carpet of snow.

This tour is a part of our highly commended Himalayan photography tours, designed by mentors with considerable know-how in travelling and photographing in the region. Join us today on this unforgettable and exclusive experience.

Jump to ◆ Overview  ◆ Itinerary ◆ Tour Highlights ◆ Is this tour for you? ◆ Tour Price ◆ Tour Mentor ◆ Detailed Itinerary ◆ Sign Up

Darter 'HIMALAYAN EXPERIENCES' are photography holidays in the picturesque Himalayan highlands with rich immersive experiences of landscapes and culture.

Tour Dates

February 4-11, 2018

---

Tour Price – ₹88,450
Overview – the magical winters of Ladakh and photographing the snowy landscapes
The highlands of Ladakh go through an amazing transformation in Winter. The usually brown mountain slopes are now adorned with white blankets of snow. The earth appears bridal white, with an endless expanse of soft snow dominating the landscape. Only the sound of the wind (and your own breath) gives you company in the vast wildernesses, allowing you to soak in the peace of these extraordinary mountain landscapes.
In Changthang Plateau, the famous Pangong Lake and Tso Moriri Lake freeze adding a stillness to the landscape. The rivers too are now flowing hidden under a thick cover of ice, and trapped air bubbles form beautiful patterns. Drops of water trickle down from hanging bunch of icicles. Even car windows show off beautiful patterns with the frost formed over them.
And yet, life is everywhere around you. Brown grass trapped in ice forms curious formations. Nomads graze their sheep and yaks around semi-frozen streams, where grass still persists, with guard dogs watching over for predators. Majestic Kiang (or Tibetan Wild Asses) gallop through the snowy landscape and birds fly about in search of their next meal.
For a photography enthusiast and mountain lover, opportunities are indeed unlimited! However, this is no easy journey. Winter temperatures go down to -25C or lower. At these altitudes (over 11,500 feet), the rarefied air makes it more difficult.

Good preparation and adequate safeguards make this journey possible. We need to tread through these extreme weather conditions with high quality warm clothing from head to toe. And it is very important to acclimatize well over the first 2 days of the tour to get used to the altitude. Be prepared mentally as well as with all the necessary equipment, if you plan to tread these winter landscapes.
Dates & Itinerary
Tour Dates: February 4-11, 2018 (Sunday to Sunday)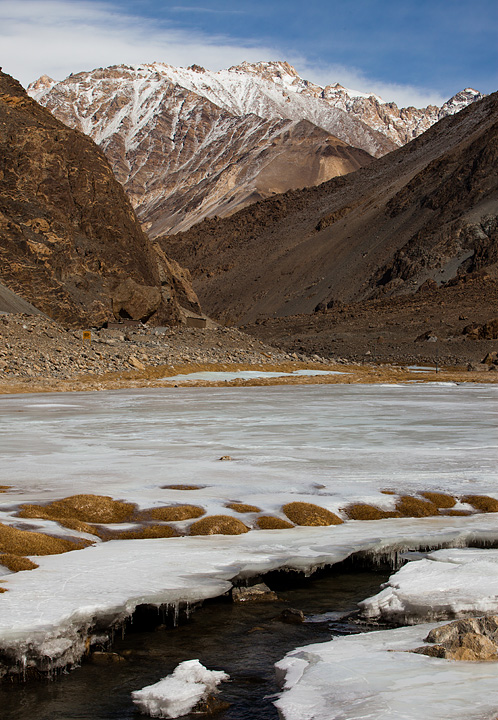 Itinerary
To understand more about the places we visit and things we do, do not forget to see the detailed itinerary.

Sunday – Arrive in the morning. Rest and acclimatize. Overview sessions on photography techniques. Overnight at Leh
Monday – An easy day with visit to local monasteries – Thiksey and Stakna, along with views of snow-clad mountains and a deep-blue, partially frozen Indus River. Overnight at Leh
Tuesday – Drive to Pangong Lake with many photography stops along the way – brilliant winter landscapes, sheep grazing on dry grass, partially frozen streams. Stay on the bank of Pangong Lake. Overnight at Pangong Lake
Wednesday – Drive from Pangong Lake to Chumathang. Overnight at Chumathang
Thursday – Visit Tso Moriri Lake and Korzok Village, driving through the mountains of Changthang. Overnight at Chumathang.
Friday – Drive through ice-fields of Changthang with bursting hot springs. Visit a nomadic settlement. Witness amazing sights of nomads herding sheep into the sunset. Overnight at Chumathang.
Saturday – Drive back to Leh from Chumathang. Overnight at Leh
Sunday – Tour ends
If it is convenient for you, we recommend that you arrive a day earlier (Saturday) in Leh. It'll give you another day of acclimatization and helps you cope better with the altitude. Let us know when you sign up for the tour and we'll help you with the arrangements.

Tour Highlights
Drive through some of the most amazing landscapes filled with snow in the high regions of trans-Himalayas.
See and photograph the amazing span of frozen Pangong and Tso Moriri Lakes. Staying next to a frozen Pangong lake.
Visit and photograph the vast ice-fields of Changthang Plateau; admire and photograph fascinating formations of snow crystals, icicles and frost.
Visit the decorated prayer halls of Buddhist monasteries in Ladakh that have followed an ancient tradition of Tibetan Buddhism. All located next to River Indus that is now a clear blue flow, partially frozen.
Visit to sights specifically chosen keeping photography opportunities in mind
Expert help and advice with photographing landscapes of Ladakh region
Constant interaction and assistance on field by photography experts with an experience of travelling in Ladakh
Insights to nuances of outdoor landscape photography during the tour
Image reviews by your photography expert
Is This Tour For You?
This tour is for everyone who loves to explore the exotic and beautiful landscapes deep in the trans-Himalayas. The tour is designed to help participants learn the nuances of making beautiful photographs of the mountain scenery and the culture. Note that the participants are not required to be experts in photography or carry professional equipment. Beginners and newbies as well as serious photographers benefit through our personalized attention to photography sessions and on field assistance. Non photographers interested in exploring the winter in Ladakh are welcome too.
What about the cold weather?
During this tour, we may encounter temperatures as low as -25C or even lower. Only way to manage such temperatures is to be very well equipped. We will send you a list of must-have equipment that will help you face the cold weather. When you are well-equipped, you should be able to fight the cold weather well after your body gets acclimatized in a day or two. There would still be some discomfort but nothing that would prevent you from actively enjoying the tour.
However, this tour is not recommended for those who are sensitive to cold weather. Also, while this tour doesn't demand high fitness levels, a reasonable degree of fitness (equivalent of being able to walk a few kilometers in normal conditions) is desirable.
Can I bring my non-photographer partner with me?
Yes, you can. We visit many beautiful places in Laadakh and having a good time during the trip is as much on the agenda as photography is. Your partner will enjoy the journey with the group. Please note that we do not offer a separate non-photographer pricing.
I am not a keen photographer. But I want to visit Ladakh with your group. Can I still join?
Yes. We visit many beautiful places in the region, and having a good time during the trip is as much on the agenda as photography is. Please note that we do not offer a separate non-photographer pricing.
Is there a lot of walking/trekking involved?
In short, no. All the places we go to will be reached through vehicles. But we will be doing some walking at a few places. There are no strenuous, long distance walks or full-day hikes. We believe that most people in reasonably good health should not have any problems with most of the activities through the tour. Speak to us if you have any doubts.
Also refer to our tours faq for more information.
Tour Price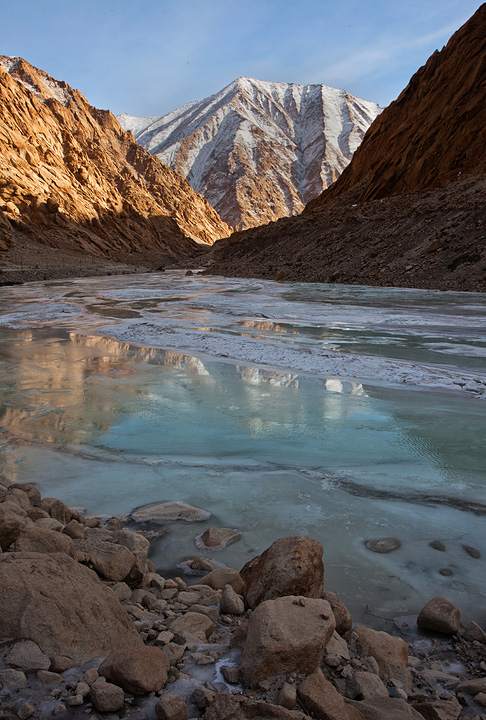 Tour Price: Rs.88,450 per person
The cost includes

Accommodation on twin sharing basis. Accommodation will be in heated rooms in Leh. On the other days at Pangong Lake and Chumathang, we will be camping out.
Transportation on all days of the tour
All meals during the tour
Permits and all entry fees
Photography sessions, expert advice and assistance, image reviews and critiques
All applicable taxes
The cost does not include
Travel to Ladakh and return travel from Ladakh to your location
Additional food or beverages ordered, room service, bottled water
Tips and gratuities
Note:
1. Please note that the itinerary provided is subject to favourable weather and road conditions. In case of bad weather and inaccessibility to a destination after the tour begins, we will do our best to make alternate plans. The cost of the tour or any part of it will not be refunded in the event of unfavourable conditions anytime during the tour days, after the tour begins.
2. No refunds will be made if a participant is unable to complete the tour owing to medical conditions or any other reasons, after starting the tour.
2. It is possible that the tour can not begin if the flights are cancelled in the winter months for a few days in succession if there is snowfall at Leh Airport. Please note that Darter Photography has no control over such situations. In such event, Darter Photography will return your tour fees after retaining Rs.20,000/- towards expenses we incur in preparation of the tour.
3. In addition to the above, please budget for expenses towards procuring cold weather gear that is required for travelling to Ladakh in winter. We will help you with the list of warm clothing that you need to carry for this tour.
4. This tour requires a quorum of 4 people.
Accommodation
Accommodation will be in hotels with heated rooms (Hotel Grand Dragon or similar) on the days we are staying in Leh. At Pangong Lake and Chumathang, we would either be staying in basic home-stays (wherever available) or we would be camping out . Camping facilities will be sufficient and suitable for the cold weather conditions.
Photography Mentors
Arun Bhat

Arun Bhat is a multiple award-winning, internationally published photographer with more than a decade of experience behind the camera. He has conducted workshops and tours in several locations across Asia, including Dubai, Myanmar, Cambodia, Bhutan and destinations all over India. You can find his works at www.paintedstork.com
While he has exposed himself to multiple genres of photography that expands to travel, studio work, real-estate, landscapes and much more, he is more known for his prowess in travel photography. His experience has helped him emerge a master in composition, storytelling and in framing the right moods at the right moment.
Arun has spent hundreds of days travelling in the Himalayas, exploring and photographing the landscapes and cultural heritage of the high mountains. Few people understood the many moods of this magnificent mountain region as Arun does. Travelling in the Himalayas with Arun is something not to be missed!
Manish Lakhani

Few people can boast of having travelled the high Himalayas like Manish has. For more than a decade, he has wandered these mountains on foot, on bicycles and on two and four wheels exploring the corners of the mountains and often making his own path. With this experience, he can also boast of a vast collection of magnificent images of these mountain ranges that can be a cause of everyone's envy.
Manish was born with a love for mountains, which has carried him back to Spiti, Ladakh and other highlands many times over. He has captained some incredible expeditions in the high mountain regions, including the venerated Chadar Trek, which he has led nearly half-a-dozen times during the winter months in Ladakh. Besides being an experienced photographer, he is also a keen cyclist and a mountain enthusiast.
More of his work can be seen at withmanish.com
Detailed Itinerary
Day 01. Arrive in Ladakh and Acclimatization
We will arrive by the morning flight and will be whisked away quickly to the heated hotel rooms to escape the cold weather. This is a day to be taken easy and acclimatize. Take rest in the hotel and let your body get used to the high altitudes.
In the afternoon, your photography mentors will familiarize you with the places that we would be visiting. They will also take you through sessions on photographing the beautiful winter landscapes and culture of Ladakh.
Overnight in Leh.
Day 02. Visit to Monasteries and Shanti Stupa
We will venture out into the cold winter of Ladakh today, visiting a few monasteries not faraway from Leh. The outing will familiarize you with winter landscapes and weather. Expect to see a beautiful blue Indus River, partially frozen on either sides, flowing through mountains covered with snow. This is just a glimpse of more beautiful things to come.
An evening visit to Shanti Stupa high up the town will give you panoramic views of Leh and some breathtaking views of Tsemo Gompa with the mountains around it as the sun goes down.
Overnight in Leh.
Day 03. Drive to Pangong.
Sit back and be prepared for a drive of your lifetime. We leave Leh in the morning hours and start the journey towards the frozen Pangong Lake. The drive is as awesome as seeing the lake itself, if not, even better. Once you cross the high pass of Chang La, you will go past streams that are partially frozen and flowing gently through beautiful ice fields. The patterns and forms made by the ice will make you want to sit there forever and watch them. Further ahead, we may see local shepherds herding their Pashmeena Goats in the valley we are travelling through. Where is grass for them to graze on, you will wonder. But these survivor sheep can live on little leftover dried grass from last summer. We drive along, photographing all these, until we arrive at the famous Pangong Tso, now solid with a layer of ice on top. It is a beauty that you would never forget, but there is more to come.
Overnight at Pangong Tso.
Day 04. Drive towards Chumathang.
We make the slow drive towards Chumathang today, retracing a part of the way we took yesterday and then travelling upstream Indus. We will stop often, photographing the partially frozen Indus River reflecting the mountains around us. At places where the river surface is solid ice, we will once again see beautiful patterns and trapped air bubbles creating interesting formations. The night will be at the hot springs of Chumathang Village.
Overnight at Chumathang.
Day 05. Tso Moriri
Today, we will drive deep into high altitude plateau of Changthang on our way to Tso Moriri. Expect to see an incredible amount of snow this one day, which may be much more than what you would have seen in all of your lifetime. We will be driving on a narrow road that bisects the ocean of snow. The place is so covered with snow that we will not even be able to tell where exactly are some of the smaller lakes along the way are located. We arrive at the frozen Tso Moriri in a couple of hour's drive. At Korzok Village, life is normal despite the challenging weather conditions. We will see kids busy playing on the streets and adults occasionally running up and down with no specific purpose whatsoever. With all the agricultural activities coming to a halt with winter, people of the village have an easy time.
We head back from Tso Moriri to Chumathang in the evening. Overnight at Chumathang.
Day 06. Ice Fields of Changthang at Puga
Today, we explore another side to the famous Changthang plateaut as we drive first to the hot springs at Puga. It is funny to see hot spurts of water rising from a place that is unbelievably cold. Some times, there is a miniature mountain of ice that forms around that gushing and steaming hot water, making it look like a tiny volcano!
Puga is a place normally inhabited by semi-nomadic Changpa shepherds in the winter. The settlement is surprisingly lively in the below-freezing temperatures – kids showing off their flashy bicycles and their newly-discovered tricks while elders go about their daily chores. Expect to see big herds of Pashmeena goats along with some horses and cows – a delight to photograph in the snowy background. Around sunset, the sight of hundreds of sheep being herded back to the settlement in that mountainous landscape is a sight to behold.
The night will again be in Chumathang, where we had stayed the previous night.
Day 07. Drive Back to Leh
We drive back to Leh after breakfast, photographing along the way. We will have a free evening for some shopping and to reminisce the days we spent the icy mountain landscapes.
Checkout after an early breakfast.
Registration
Contact us at the email/numbers below to book the tour.
email: photography@darter.in
Tel: 9880006460 (Arun) / 9740083260 (Shreeram)
Alternately, fill in the contact form.