Forts and walls that go on as far as the ridges of the hills that contain them, deep-orange hues of sun setting over orange sand dunes, slippery grains of sand slipping through the feet, starry nights in the middle of the desert whose silence is occasionally interrupted by the camel's bells, orange turbaned men playing flute and traditional ravan hatha, making the little dolls dance to the tune of soulful music, children dancing to the voices of old men wearing colourful clothes, women in red robes and long skirts walking gracefully with a pot of water leaving behind the sonorous sounds of their anklets, temples painted with playful acts of young Lord Krishna and palaces where opulence can't be bettered.

That's just a few glimpses of what Rajasthan has to offer us, and what we are going to see and photograph. Our photography tour of Rajasthan will leave you lingering for more, and the pictures we bring back will ensure that the memories will never fade.

Darter 'CULTURAL EXPERIENCES' are photography holidays to interesting and often isolated places where you get up-close with traditions, festivals and everyday life of people with a strong bonding to their roots.

Tour Dates

Oct 28 – Nov 05, 2017

---

Tour Price – ₹66,850/-

Jump to a section in this page: ◆ Itinerary ◆ Tour Highlights – Rajasthan Photography Tour ◆ Photographs made by participants ◆ Learning Photography on the Tour ◆ Is this tour for you? ◆ Tour Price ◆ Tour Mentor ◆ Detailed Itinerary ◆ Sign Up
Also see on our photography blog:
Dates & Itinerary – Rajasthan

Here is a quick look at our plan for the nine days. Also see the detailed itinerary at the end of this page.


Day 1 – Oct 28

– Arrive at Jaipur and relax

Day 2 – Oct 29

– Full day at Jaipur – Hawa Mahal, City Palace and Amber Fort

Day 3 – Oct 30

– After a morning outing in Jaipur, leave for Bikaner

Day 4 – Oct 31

– Full day Bikaner – Jaigarh Fort and Devikund

Day 5 – Nov 01

– After a morning outing in Bikaner, leave for Jaisalmer

Day 6 – Nov 02

– Full day at Jaisalmer – Jaisalmer town, ancient structures and sand dunes.

Day 8 – Nov 04

– After a morning outing, leave for Jodhpur. If time permits, we visit Mehrangarh Fort.

Day 9 – Nov 05

– After an early morning outing to either Mehrangarh Fort or the old blue city, checkout at 12pm.






Participants Say…

Thank you so much for the excellent organization of the trip… I really enjoyed it… I really liked your tips and tricks during the days and the tutorial and feedback sessions in the evenings, it helped me to improve my skills… and to see some things from another perspective. Overall I think that the program was well balanced. – M Duyves, Netherlands

---

"my experience has been quite impressive… I'd definitely recommend Darter to anyone interested in travel or photography." – Ram Prasad, Bangalore

---

"this trip to Rajasthan with you and the group was one of the most enjoyable holidays I have had in a long time. From a photography perspective, the itinerary and the timing of the visits to the various places was very well thought out to take advantage of the light conditions etc. I don't think we could have asked for anything better. " – Dilip M, Mumbai

---

"We had a lovely time! thank you for ensuring such a comfortable and secure travel" – Rashmi A, Bangalore

---

Also see: Photographs made by participants
Tour Highlights
Visit to a diverse variety of sights across Rajasthan showcasing the forts and palaces, cultural sights, the deserts and much more. The places include Jaipur, Bikaner, Jaisalmer and Jodhpur.
Continuous learning in photography on and off the field throughout the tour.
Expert help and advice with photographing culture, heritage sites and landscapes of Rajasthan along with assistance on field by accompanying photography expert; insights to nuances of travel and outdoor photography during the tour
Frequent image reviews by your photography experts.
Photographs by Participant
Here is a collection of images made by participants of this tour in the previous years.
Learning Photography on a tour with Darter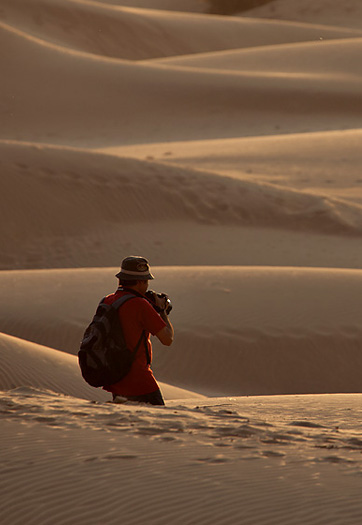 Every Darter Photography Tour is led by an experienced professional photographer who has a good understanding of the region and photography opportunities. Throughout the tour, your photography expert will assist you to learn photography on and off the field and helps to improve your technique and composition skills. All our tours include several mentoring activities which include

detailed sessions on photographing the genre of subjects that we will encounter during the tour
introductory session for beginners to get a quick start to use their camera to its best potential
on field assistance to make the best images at location, and to resolve any of your questions on field
regular critique and image reviews that help you improve your photography skills continuously through the tour
With these programs, every photography enthusiast on the tour will go back with beautiful images in their camera and a lot of experiential learning.
With limited number of participants on our tours, we will ensure that every participant gets individual time with the mentor.  This ensures that no matter what is your expertise in photography – a beginner or a regular photographer – you will go back with plenty of learning from our tours.
Is This Tour For You?
This tour is intended for amateur as well as serious photography enthusiasts with an interest to visit and photograph the beauty of Rajasthan. No prior expertise or experience in photography is necessary, as our photographers will be there to assist you at every level. You may carry any camera – a simple aim-and-shoot or a DSLR. Travel enthusiasts who are not photographers but keen to experience the multiple facets of Rajasthan can also benefit from the tour.
Can I bring my non-photographer partner with me?
Yes, you can. We visit many beautiful places in Rajasthan and having a good time during the trip is as much on the agenda as photography is. Your partner will enjoy the journey with the group.
I am not a keen photographer. But I want to visit Rajasthan with your group. Can I still join?
Yes. The answer is exactly same as in the case of previous question. We visit many beautiful places in Rajasthan and having a good time during the trip is as much on the agenda as photography is.
Also refer to our tours faq for more information.
Tour Price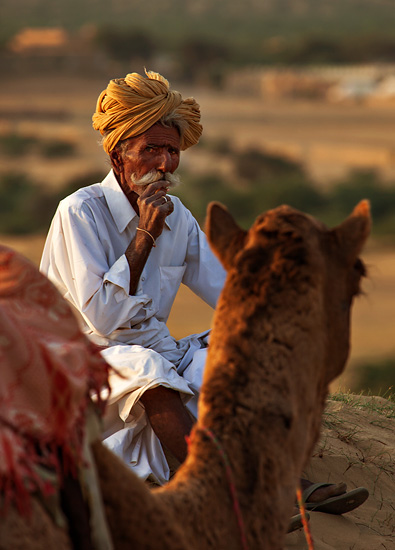 Tour price: Rs.66,850 per person.
The tour begins at Jaipur and ends at Jodhpur. Please contact us, if you have any questions on how to arrive at Jaipur from your location and how to travel out of Jodhpur to your location.
The cost includes

Accommodation on twin sharing basis, with breakfast. Single occupancy requests are possible at an additional cost.
Dinner on Day 7
Airport pickup at Jaipur
Ground transport during the tour
All entry fees and camera fees during the tour
Photography sessions, expert photography advice and assistance, image reviews and critiques
The cost does not include
Travel to Jaipur from your location and travel from the place of checkout to your location.
Lunch, dinner, water bottles and additional snacks or beverages ordered
Anything else that is not part of the includes list above
Drop off from hotel to point of departure (airport/train station) at Jodhpur
Your Photography Mentor
Shankar Subramanian

Shankar is a passionate photographer who has several international awards to his credit . He has won the awards from the prestigious International Photography Awards , International Color awards and Black and White Spider awards. His photographs from Rajasthan feature in these awards . He has been pursuing photography for the last 15 years and travelled extensively in India and abroad. He has mentored many photographers though his photography group Thank God It's Saturday which was set up mainly to provide a platform for new and upcoming photographers . He is passionate about Travel photography and portraiture and loves to create stories about the places he goes to.

You can see some of Shankar's work at ushankar.in/
Detailed Itinerary
The itinerary is tentative. Your photograph lead may decide to make a few changes to plan to maximize photography opportunities as we go along the tour.
Day 1 28-October Arrive at Jaipur
The tour begins in the second half of the day, though we may arrive at any hour today depending on our transport plan. It is a day to relax and spend leisurely. We recommend that you arrive early, so that you have time to visit the famous Choki Dhani Tourist Village (optional – entry fee and dinner not included with this tour) that gives you instant introduction to the splendours of Rajasthan. The leisurely evening in Choki Dhani also gives us an opportunity to break the ice and get to know each other.
Choki Dhani's cultural evening, with several performances in progress at any time in a large open arena all through the evening, its delicious and richly prepared food of Rajasthan and the rustic ambiance will make your evening memorable. It may be a made-for-tourists location, but the authenticity of everything inside will have you come back impressed.
Day 2 29-October Full day at Jaipur
When Maharaja Jaisingh ordered the city of Jaipur to be painted pink to welcome the Prince of Wales, he probably never imagined that the city will live pink even after 150 years. Today, the pink city, the old walled part of Jaipur, remains an attraction with its all-pink facades, well planned blocks, its colourful city palace and Jantar Mantar. The alleys of these parts have an old world charm, where we see ficus trees rooted on the walls, small old temples surfacing here and there, colourful embroidered clothing for sale next to the street, and old arched walls peeling off and announcing their age. Enter city palace, it appears like a different world with spacious courtyards, walls painted in deep hues of pink, fluttering pigeons decorating the sky above the arches and a touch of Rajasthan's tradition. The contrasting colours of pink walls and the clear blue winter skies of Rajasthan dotted with pigeons make great subjects for your camera.
The prized structure of Rajasthan that adores the cover of every brochure and travel magazine is the Hawa Mahal. We shoot this from every angle, with on-the-spot assistance and suggestions from our photography expert if you need it, until we are sure to have have missed nothing. Fingers tired with too much clicking? We now head back to the hotel, for a heavy lunch and some good rest before the cameras go hungry again later in the afternoon.
There is a lot more waiting for the evening, when we visit the amazing Amber Fort located across a forest, over a hill and overlooking a lake. The predecessor to Jaipur, Amber lets you photograph diverse subjects that include the fort walls, the lake, a series of hills around it and interiors that are sometimes simple, sometimes queer and sometimes luxurious. The pigeons of Amber, like everywhere else in Jaipur, offer a good distraction to the architecture.
Later, on the way back, we stop by at Man Sagar Lake for the sunset and capture the last rays of sun falling on the island palace of Jal Mahal. We would like to say it is going to be a very eventful day and a grand start to the tour, but wait till you figure that out yourself.
Day 3 30-October Sunday After a morning outing, leave for Bikaner
We checkout from our hotel after breakfast and make our way towards Bikaner, straight into the heart of the desert.
There is a surprise stopover and some interesting photography opportunities await you during the journey!
It will be a relaxed evening after we check in at Bikaner, before we head out to explore the town tomorrow.
Day 4 31-October Full day Bikaner
The morning is dedicated for the famed sights of Bikaner. Early in the morning, we will explore the old town, strolling the narrow streets and exploring a very different world full of old and battered Havelis. The exteriors of the Havelis have an old-world feel that distinguishes them from everything around them.
Later, we head to the well-known Junagarh fort and spend time exploring interiors of the royal structure. Before we begin to get any sort of fatigue of forts and palaces, we leave from here to see the Jain Temples and the streets of Bikaner with its old and quaint structures. The old Havelis and streets adjoining them will give us an old-world feel of Bikaner.
Some time in the evening, we will leave for Devi Kund just outside the town, perhaps one of the less celebrated sights in the region, but offers excellent photography opportunities. The series of chhatris against the setting sun is something to look for.
Day 5 01-November Drive to Jaisalmer
This will be a relaxed morning, when those of us who would enjoy waking up early to catch the street-scenes early in the morning will head out before the breakfast.
We will leave for Jaisalmer soon after breakfast at the hotel. By late afternoon, we would have reached Jaisalmer, home to the most beautiful landscapes and sand dunes of Thar Desert. You would have already seen it in photographs and bollywood movies, but nothing would have prepared you for the beautiful waves of fine sand spread over the vast deserts around Jaisalmer. Jaisalmer truly has a feel of oasis in the middle of the desert, like a place out of nowhere and a place that is faraway.
We will have a surprise stopover and interesting photography opportunities waiting for you on the road!
Day 6 02-November Full day at Jaisalmer
Let's begin the day with sunrise over beautiful Gadissar Lake. You would wonder how so much water came into this desert. The little pavilions forming tiny islands offer a beautiful foreground against the pink sky reflecting in the water.
Before we experience the magic of the desert today, we will explore the corners of Jaisalmer, an ancient trading center. One of the places we visit will be Patwon-ki-Haveli, the beautiful four-story building with intricately decorated external walls. The insides are now converted to a museum. Our cameras will focus as much on the streets outside, as they do on the well known Haveli. There is so much to photograph in these places, let's be thankful that the cameras don't have a tendency to heat up from overuse!
Come evening, we are finally heading to the most anticipated sight of the whole tour – the sand dunes. At Sam, the dunes are among largest that you will see in terms of area of their spread. You may first be overwhelmed by the number of tourists out there, but soon, you realize that their presence helps make those beautiful images of silhouetted camel. It would seem like a dream when you arrive, but wait till the sun moves towards the horizon and bathes the golden sand in his golden rays. You will have it easy here, making great images very effortlessly, but your photography expert will still be there with you, making sure you get the best of what the scenery has to offer.
We return to our hotel in Jaisalmer to spend the night.
Day 7 03-November Full day at Jaisalmer
Before we head to a desert-village where we will be staying tonight, let's begin with the fort, the imposing landscape of Jaisalmer that you can see from almost anywhere in the town and also from far away.
The fort has many assortments to offer for the camera, starting with its walls and gates that stand high on a huge mound. Inside, it is like a festival for 365 days a year, with people playing Ravana Hatha (a traditional musical instrument) or amusing you with acrobatics. As you walk in along the fort wall, you will be amused to see this live heritage site still hosting many houses in its corners. There is more in the fort – a palace, jain temples, the old Laxminath Temple and a vantage point that offers vista of the town and the desert beyond. All the time you are in the fort, you will realize that it doesn't ever feel like a dead monument, but a live heritage site. Of course, your photography expert will give you plenty of briefing on what to expect, what to shoot where and will be there to assist you where necessary. But this is mostly a place to wander around freely and perhaps do some shopping if you wish to.
Come afternoon, we will go in for the most popular experience in the desert – a camel safari in the desert and a night in the desert. Mind you – camel ride is not exactly as pleasant as riding a bike – the ship of the desert is not very different from being on a ship in the sea on a stormy day. But it helps you go deeper into the desert and enjoy a whole new experience in an ancient means of transport. We will do this in the small village of Khuri, which is also home to endless sand dunes and ride along the edges of Desert National Park. Keep a watch for black bucks, and if we are lucky, even foxes. Yes, we will see another magnificent sunset over the dunes today – more tasty dough for your memory cards.
It is going to be a night in the desert for us, with plenty of open space and absolute silence all around us. We will be staying in a beautiful camp-resort tonight, which will add the beauty of the desert evening. Look out for an infinite number of stars glittering in the sky tonight.
Day 8 04-November Friday After a morning outing, leave Jaisalmer for Jodhpur
We make another outing to the sand-dunes this morning to witness sunrise over the desert-expanse. If we have time, we may go out to the nearby village for a short while. Some time after breakfast, it is time to leave the beautiful stretch of sand, but only for more variety and more explorations of Rajasthan. We are now heading to Jodhpur.
If we arrive early, we will explore Mehrangarh Fort or the old blue city of Jodhpur. Much of how we plan this day depends on our hour of arrival.
It has been a few days since we have kept away from forts and palaces, so it is time to spend some time in one of the grandest forts in the state. Jodhpur's Mehrangarh Fort stands tall on a hill, looming large from far away. The insides have a great variety with its large corridors and courtyards, museums and palatial interiors. The tourism department of Rajasthan has also made this place a showcase of Rajasthan's culture, filling your senses with traditional music, dances and attire of the state without in any way intruding to your tour of the palace. For us, they are not mere side-trips but photography opportunities that come calling.
Day 9 05-November Morning outing and checkout
Depending on how we have spent the previous evening, we will decide to spend the morning either at the old blue city of Jodhpur or at the Mehrangarh Fort – either one that we did not visit yesterday. The tour ends at 12 am.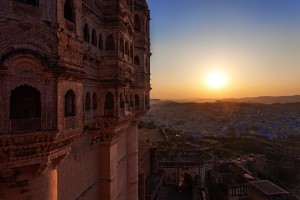 The days in Rajasthan would have given you a glimpse of everything that this beautiful state could offer – the strong forts on once inaccessible places, luxurious palaces, the rustic and traditional lives of its people, rich colours of the turbans and long red skirts, ancient temples, cultural performances, vast desert, the sand dunes, camel rides and a glimpse of the wildlife. Our travel to Rajasthan probably takes us through all that the state has to offer. Most importantly, we would have used our cameras to their maximum capabilities and have some great images from every location that will stay with you forever. There will be plenty of learnings in photography and great photos that will remind us of our amazing time in Rajasthan for a long time to come.
Registration
Contact us at the email/numbers below to book the tour.
email: photography@darter.in
Tel: 9880006460 (Arun) / 97400 83260 (Shreeram) / 7022166822 (Sreedevi)
Alternately, fill in the following form to get in touch with us regarding the tour.