Travel with Darter Photography to the extraordinary land of the Thunder Dragon!

We take you to the mystic land of beautiful mountains, gurgling rivers, rice fields, happy people and Buddhist monastic traditions. See and photograph the captivating landscapes and culture of Bhutan. As you travel, learn to make mesmeric images of the country's rolling mountains, ancient structures, people and the culture in a way that leaves a lasting impression!

Jump to section ◆ Itinerary ◆ Tour Highlights ◆ Is this tour for you? ◆ Tour Price ◆ Tour Mentor ◆ Detailed Itinerary ◆ Sign Up

Darter 'HIMALAYAN EXPERIENCES' are photography holidays in the picturesque Himalayan highlands with rich immersive experiences of landscapes and culture.

Tour Dates

Apr 08-15, 2018

---

Tour Price – ₹76,350/-
Dates & Itinerary – Bhutan Photography Tour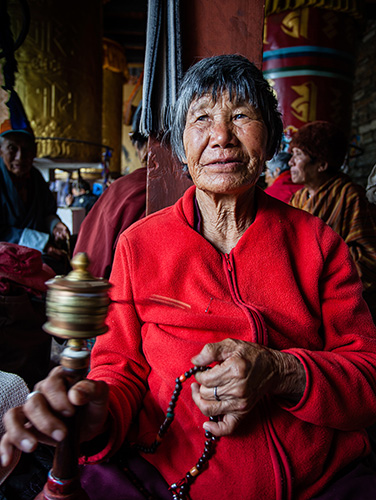 The itinerary below begins from Paro, the airport in Bhutan where you can fly into. Scroll down to see an option to arrive in Bagdogra/Siliguri in India and travel by road to Paro. Go to 'reaching Paro' section below for more information on reaching Paro,
Dates: Apr 08 to 15, 2018.
Day 01 /

Apr 08 Sunday

 Arrive at Paro and relax. Introductory sessions and visit to the town.
Day 02 /

Apr 09 Monday

Drive to Ha Valley and back. Overnight at Paro.
Day 03 /

Apr 10 Tuesday

 Drive to Thimpu (2 hours). Photograph sights along the way and in the city. Stay at Thimpu for the night.
Day 04 /

Apr 11 Wednesday

 Make the scenic drive to Punakha via Dochu La pass (3 hours). Several photography opportunities along the way and at Punakha. Overnight at Punakha.
Day 05 /

Apr 12 Thursday

 Photographing landscapes, monasteries and village life around Punakha.
Day 06 /

Apr 13 Friday

 Slow and easy drive from Punakha to Paro as we revisit the places along the way for more photography. Stay at Paro
Day 07 /

Apr 14 Saturday

Visit the famous Tiger's Nest (Takstang) monastery. Overnight stay at Paro.
Day 08 /

Apr 15 Sunday

Checkout after breakfast.
---
Travel by road from Bagdogra
As air-tickets to Paro, Bhutan often get sold out, you may also opt to begin the journey by road from Bagdogra. This itinerary begins one day earlier and ends one day later than the above itinerary.
Day -01 /

Apr 06 Friday

 Arrive at Bagdogra and drive to Phuentsholing border.
Day 00/

Apr 07 Saturday

Drive from Phuentsholing to Paro.
Day 08 /

Apr 15 Sunday

Checkout after breakfast from the hotel in Paro and drive to Bagdogra.
Day 09 /

Apr 16 Monday

Checkout from the hotel in Bagdogra. Tour ends.
Tour Highlights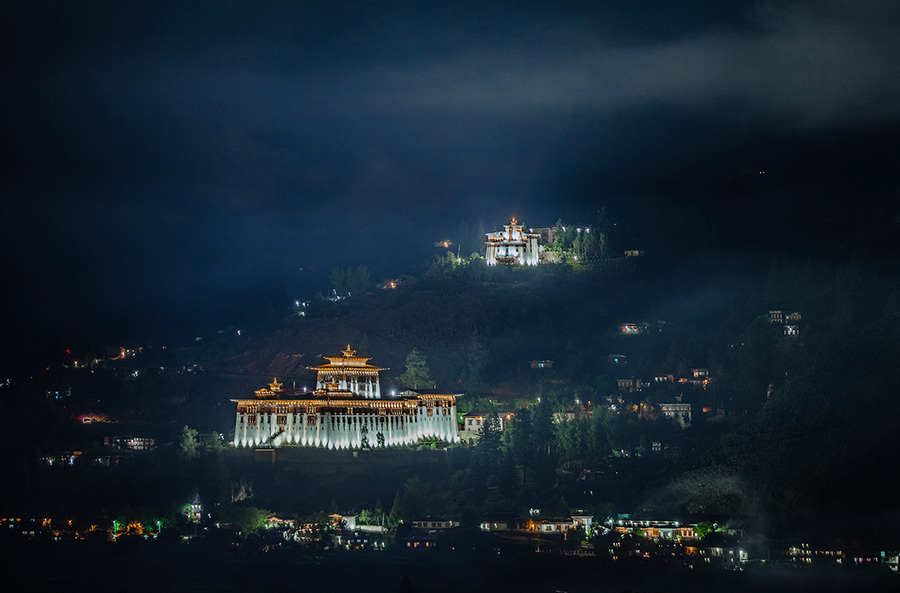 Visits some of the grand, beautifully built fortresses called Dzongs at Paro, Thimphu and Punakha.
Visit to magnificent Dochula Pass and Chelela Pass, offering brilliant views of snow-peaks.
Day-hike to Paro Taktsang (Tiger's Nest) Monastery located precariously on a cliff – one of the Bhutan's most sought-after locations.
Several short distance walks in open spaces and rural areas of Bhutan.
Visits to several monastic centers and temples through the itinerary.
Photographing monks, local people, heritage structures and landscapes along the way..
Visit to sites specifically chosen keeping photography opportunities in mind at an easy pace suitable for photography
Sessions during the tour that enable you to capture best images of Bhutan
Insights to nuances of travel and landscape photography during the tour
Constant interaction and assistance on field by photography experts having considerable experience travelling in Bhutan
Image reviews by photography experts at the end of day, every day
Learning Photography with Darter
Every Darter Photography Tour is led by an experienced professional photographer who has a good understanding of the region and photography opportunities. Throughout the tour, your photography expert will assist you to learn photography on and off the field and helps to improve your technique and composition skills. All our tours include several mentoring activities which include

detailed sessions on photographing the genre of subjects that we will encounter during the tour
introductory session for beginners to get a quick start to use their camera to its best potential
on field assistance to make the best images at location, and to resolve any of your questions on field
regular critique and image reviews that help you improve your photography skills continuously through the tour
With these programs, every photography enthusiast on the tour will go back with beautiful images in their camera and a lot of experiential learning.
With limited number of participants on our tours, we will ensure that every participant gets individual time with the mentor.  This ensures that no matter what is your expertise in photography – a beginner or a regular photographer – you will go back with plenty of learning from our tours.
Is This Tour For You?
This tour is intended for amateur as well as serious photography enthusiasts with an interest to visit and photograph the beauty of Bhutan. No prior expertise or experience in photography is necessary, as our photographers will be there to assist you at every level. You may carry any camera – a simple aim-and-shoot or a DSLR. Travel enthusiasts who are not photographers but keen to experience the multiple facets of Bhutan can also benefit from the tour.
Can I bring my non-photographer partner with me?
Yes, you can. We visit many beautiful places in Bhutan and having a good time during the trip is as much on the agenda as photography is. Your partner will enjoy the journey with the group.
I am not a keen photographer. But I want to visit Bhutan with your group. Can I still join?
Yes. The answer is exactly same as in the case of previous question. We visit many beautiful places in Bhutan and having a good time during the trip is as much on the agenda as photography is.
Is there a lot of walking/trekking involved? Is this a difficult tour? What is the fitness level required?
Not really. We will be travelling in Bhutan in four wheelers as all the places we are going to are connected by road. We will be doing a few short hikes that are of easy to moderate level of difficulty. So, while you need to be healthy, no greater level of fitness is necessary. The trip is meant to be easy on your legs.
Also refer to our tours faq for more information.
Tour Price
Tour Price (for tour starting from Paro): Rs.76,350/- per person (Indian Nationals only; other travellers please scroll down for pricing).
If you wish to take the road to Paro from Bagdogra / Jaigaon / Phuentsholing as the road-based itinerary mentioned above, please get in touch for the pricing.

The cost includes

Accommodation on twin sharing basis
Transportation on all days of the tour
All breakfast, lunch and dinner starting from lunch on Day 01 and ending with breakfast on Day 08, excluding lunch/dinner in Thimphu.
Permits and all entry fees
Photography sessions, expert advice and assistance, image reviews and critiques during the tour
The cost does not include
Travel to Paro and return travel from Paro to your location
Additional food or beverages ordered
Lunch and dinner in Thimphu
---
Tour Price (for tour starting from Bagdogra): Please get in touch with us if you wish to arrive in Bagdogra / Jaigaon / Phuentsholing and take the road to Paro.
The prices above apply for Indian Nationals only. Price applicable to other nationals is US$2750 per person for this tour as based on minimum tariff  requirement imposed by local government. Also please note that this price refers to arrival and departure from Paro by flight. If you intend to travel to Bhutan overland, please contact us for more information.
Reaching Paro, Bhutan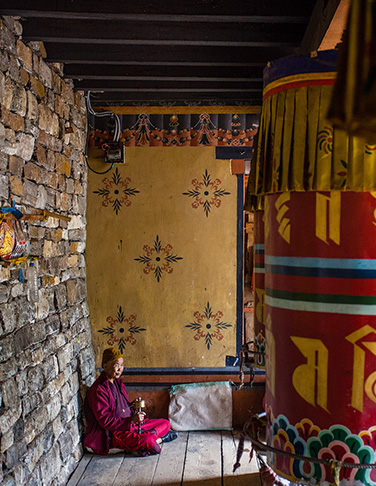 You can reach Paro by two ways – land route or air.
Reaching By Air
Two Bhutan based airlines – Druk Air & Bhutan Airways fly to Paro. Druk Air has connections from Kolkata, Guwahati, Bagdogra, Mumbai and Delhi. Bhutan Air flies from Kolkata and Delhi. Even if you live in Mumbai or Delhi, it may sometimes be less expensive to take a flight from Kolkata instead of flying direct.
Do note that Indian Nationals may have a discounted fare available on these flights. To avail the discount, please select your nationality as 'SAARC' when you book on Druk Air website. With Bhutan Airlines, discounted fare is not available online, but can be booked by calling their office.
If you plan to travel by air, we recommend that you get your tickets at the earliest, as tickets often get sold out months in advance.

If you opt to fly via Kolkata, as these are international flights and leave early in the morning, you may have to reach Kolkata a day earlier.
Reaching by Land
Please visit the itinerary section to see the road-travel option. You may join the group starting from Bagdogra on Day zero. If you intend to travel by road independently, do find necessary travel information below.
The road entry to Bhutan is from a place in norther part of West Bengal, called Phuentsholing. The Indian side of the border town is called Jaigaon.
To get to Jaigaon, you can –
1) fly into Bagdogra or take a train to New Jalpaiguri.
2) take a taxi or train to Jaigaon. Jaigaon is about 150km from Bagdogra/New Jalpaiguri.
3) At the border, you need to get your entry permits at the Bhutanese immigration office, which is open between 10am and 2pm. So you may have to stay in Jaigaon for a night and proceed to Paro next day.
4) Once you get immigration clearance, you can take a bus or hire a taxi to reach Paro. This will be a simple affair where you can get an awaiting taxi across the border. Paro is 130km from the border.
You can also get to Jaigaon by taking (a) a train from Kolkata to either Hashimara (10km) or New Alipur Duar (60km) stations (b) taking a direct bus from Kolkata to Jaigoan.
Accompanying Photography Mentor: ARUN BHAT

Accomplished, multiple award winning travel and landscape photographer Arun Bhat's works have been used by publications in India and across the world. He is a professional photographer who has extensively travelled across India, creating some of the finest imagery of India's landscapes and heritage sites.
Arun is the winner of prestigious HIPA awards Dubai, having secured the top position in the primary category of the award in 2014-15 edition. He is also awarded with the first ever Tamron India photography challenge (2012) and GCCA best travel & wildlife photographer award (2012). His work was among featured images in 'World in Focus' travel photography awards.
He has conducted travel photography workshops, tours and talks in several locations in India and elsewhere. For over five years, he has lead photography tours and workshops in Bhutan, Dubai, Himalayas, Rajasthan, North-East India, Varanasi, Myanmar and Cambodia. People attending Arun's workshops have regularly praised him for his ability to coherently convey an idea, be available to be of assistance all the time and a commitment to the progress of every participants.
Arun has spent nearly six months of travel experience in the Himalayas, exploring varied landscapes and the Buddhist culture of the region. His in-depth knowledge of the mountains will come handy throughout the tour as he helps you photograph the mountains and the local culture. People who have travelled with Arun on tours never forget to mention his friendly approach and a willingness to be available to everyone all the time through the tour.
Besides being a travel photographer, Arun has also donned the role of a published and well-recognized travel writer. This means his expertise comes not only making the right images, but also in making essential preliminary research and exploration that helps in being at the right place at the right time.
See more of his work on www.paintedstork.com
Detailed Itinerary
Travellers opting to join the group from Bagdogra will arrive in Bagdogra on 12th May, stay in Phuentsholing border. On 13th May drive to Paro and stay over. On 14th May travellers flying into Paro join the group and the itinerary below follows.
Day 1 Sunday. The excitement begins today as you arrive in the small Bhutanese town of Paro. If you are coming by flight, you will see some lovely views of the mountains as the aircraft reaches Paro. If it is a clear day, we will get a good view of the Jhomolhari mountain from the town itself. We check-in at our hotel and take the day easy. Later in the day, your lead photographer will introduce you to the action that is lined up for the next one week. If time permits in the evening we will go to Kyichu Lhakhang, one of the oldest temples in all of Bhutan or the beautiful Paro Dzong.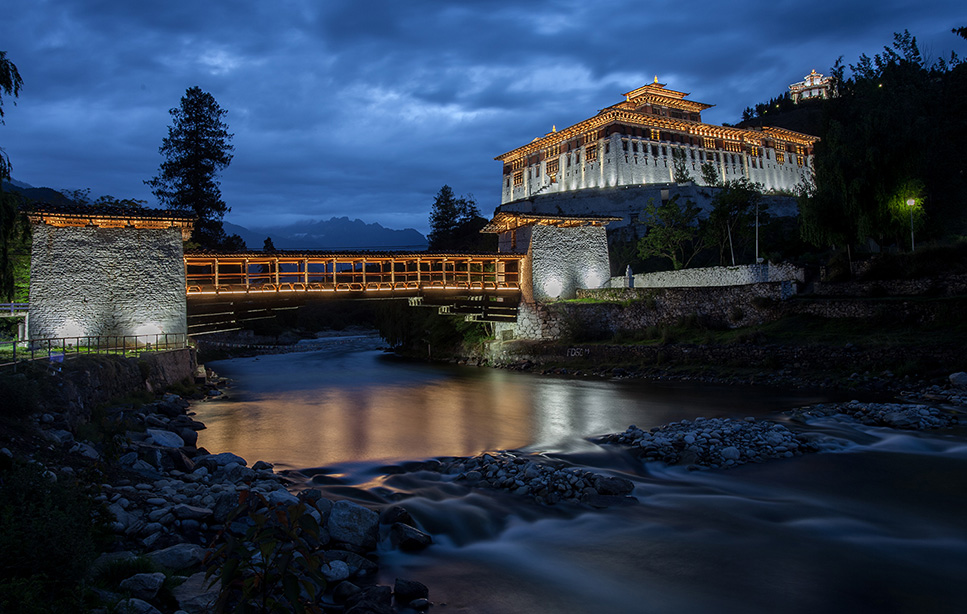 Day 2 Monday. This morning, a winding drive up the hills through alpine vegetation and carpeted flower decked fields will take us to the Chele-la pass ( 3810m). Chele la is a windy pass filled with white prayer flags fluttering in the breeze. En-route, we may encounter yak-herder huts and grazing yaks. Further, we drive down to the picturesque Ha valley where bridges, green hills and a charming river await your camera.
On our way back at Chela La, we will have good light to photograph the prayer flag and Jhomolhari range of snow peaks if the day is clear. We return to Paro in the evening.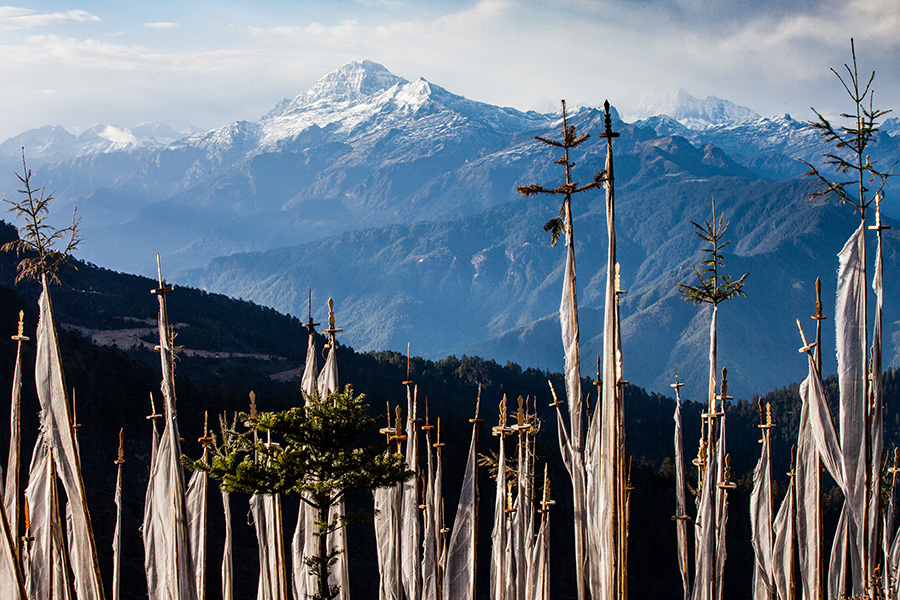 Day 3 Tuesday. We head out early after breakfast today towards Thimphu, the capital of Bhutan and perhaps the only capital city in the world that doesn't have traffic lights. It is a picturesque drive along Paro Chu River, which, somewhere along the way, joins Wang Chu River. We drive past terraced rice fields and old houses along the way before we reach Thimphu.
Later in the day, we go to Trashichhoe dzong, a large complex that houses the central monastic body of Bhutan. If we have the time this evening, we will wander the town with our cameras for interesting sights in the city. Pious people circumambulating National Memorial Chorten in the evening makes a great photography opportunity.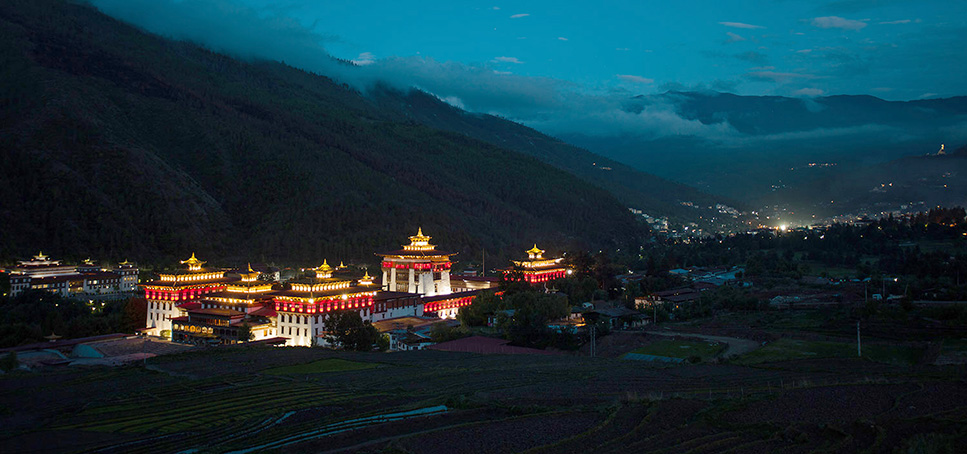 Day 4 Wednesday. We start early this morning on a drive to Punakha valley where we pass through some of the most scenic landscapes that Bhutan can offer. A one hour drive up winding hilly roads will bring us to Dochu-la pass, where we can see the snow-capped mountains at a distance on a clear day. At Dochu-la is a very photogenic monument of 108 chortens packed together densely in a green surrounding. You will never be tired of photographing this monument from all possible angles.
After a leisurely lunch on the way, we drive downhill and come across the terraced fields and homesteads of the Punakha valley; a beautiful drive through pleasant rural landscapes. We will stop after descending to the banks of the small river that waters the valley and walk across the fields to a small temple on a hillock dedicated to Drukpa Kunley, a much revered monk dear to the people of Bhutan. A short walk will give us insights to rural life and agricultural activities in Bhutan, that you will cherish.
The temple itself is a charming place on a hillock, where you may get to see young monks playing football, surrounded by a thick line up of vertical prayer flags – a sight that is guaranteed to make your cameras drool.
Day 5 Thursday. We will visit Punakha dzong this morning, crossing a lovely wooden bridge lined with prayer flags. Inside the dzong are the quarters of the monks and prayer hall with peaceful courtyards. We will spend some time exploring and photographing the dzong for most of the morning hours.
In the later half of the day, we will drive up to a mountain village, offering panoramic views of the Punakha valley below. In this small quaint village, you can interact with local villagers busy tending to their fields of corn and maize. The quiet of the pine forests enveloping the landscape are soothing to the soul, and you will be transported to an elevated state of mindfulness. This is as picturesque as rural Bhutan can get. A nunnery is perched on a hill below neaby, which we will visit in the second half. Bhutan has many nunneries, locally known as Ani Gompas, and the nuns play an important part in the religious life of Bhutan.
In the evening your lead photographer will take you through an intense drill of photographing Punakha Dzong in different kind of lighting from different angles and perspectives. Beware, you may be amazed of what you may produce with your camera today, weather and light permitting.
Day 6 Friday. We make a slow and leisurely drive from Punakha back to Paro, retracing our steps and stopping along the way as long as we like to. This is your day to wander the streets of Thimphu, shop for souvenirs and if time permits, photograph the insanely colourful Thimphu Market. Overnight stay at Paro.
Day 7 Saturday. This is our day to visit and photograph one of the iconic sight of Bhutan – Tiger's Nest Monastery, sticking out from a steep vertical slope. We begin the day easy and make the picturesque drive through farms and villages in the hills. Taktsang monastery is perhaps the most famous and most photographed of Bhutan's monasteries, perched on a cliff side above the Paro valley. We exercise our legs today as we slowly make the three-hour walk up the hill to the monastery, photographing the landscapes along the way. We go past many beautiful views, a tea-point half-way that gives us a hard-earned resting space and even a waterfall before we arrive at the monastery.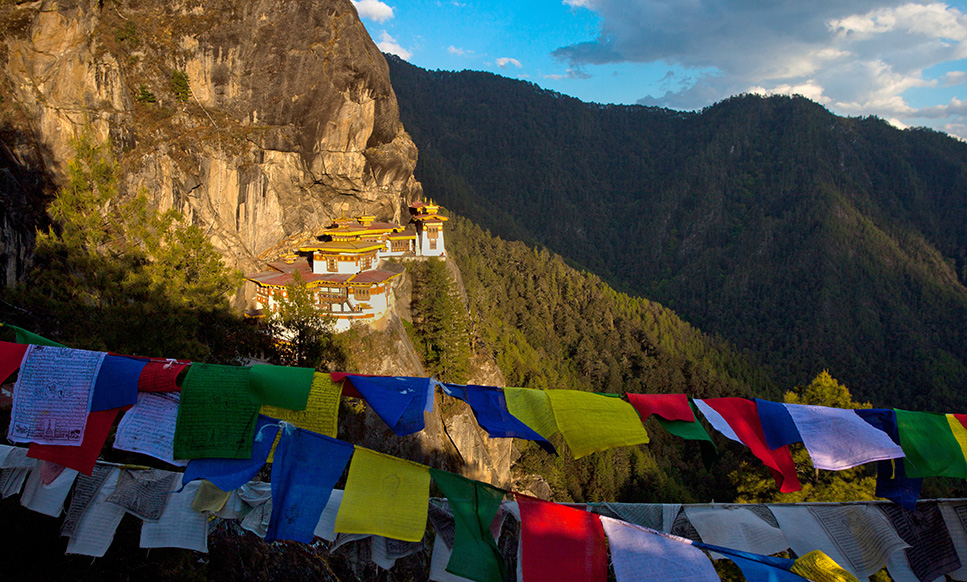 We take our time to climb up slow and easy as the day progresses. We will have plenty of time to see and shoot from a high ground and near the monastery before we head back for a slow drive back to Paro. We time our visit here in a way that we make the best of opportunities to shoot the monastery, in best possible light.
Even before we begin the walk in the morning, we would have made a short detour and visit one of the oldest temple every to be founded in all of Bhutan, just outside Paro Town. Expect to see and photograph ochre-robed monks, mercurial young monks running around the campus and old men quietly spending their time in company of prayer wheels.

Day 8 Sunday. Breakfast and checkout.
Travellers who have opted for ground transport to Bagdogra will drive from Paro, reach the hotel in Bagdogra by evening and check-out next day.
Registration
Contact us at the email/numbers or fill in the contact form below for queries and registration.
Like all our tours, the tour of Bhutan will have a limited number of participants. We recommend booking early, which also helps you get cheaper flight tickets.
Email: photography@darter.in
Tel: 9880006460 (Arun) / 97400 83260 (Shreeram)
Please fill in the following form to get in touch with us regarding the tour.

As air tickets to Bhutan often get completely sold out, please ensure that you book this tour as early as possible.