Workshop Dates

Feb 02,03,04 – 2018




Landscape Photography Workshop – Overview and Highlights

This workshop is conducted in the rich and colourful environs of coastal Karnataka in Gokarna, where two rivers meet the sea at different locations. The seashore is a mix of rocky outcrop and long beaches in different shapes, both of them presenting unique photography opportunities against glorious sunsets. The hills of Gokarna suddenly drop down to the ocean-front, offering some dramatic views of the endless waters from a height. Back on land, the rivers flow gently as they make way to the sea, surrounded by greenery everywhere and hills raising at a distance. Despite being a non-descript small-town, Gokarna has fantastic landscapes and makes it ideal for experiments and learning in landscape photography.

During the three days of this landscape photography workshop in Gokarna, you will

Learn landscape photography in theory and practice from the masters of the craft
Understand the principles and ideas involved in landscape photography and put them to use in the field
Practice in some of the finest landscapes in the region, mentored by our photographers
All round 360-degree in-depth understanding of landscape photography – scouting, assessing the landscapes and moving from imagining to creating landscape images
Visit beautiful seaside and riverside landscapes – sea and the river at Gokarna and surrounding areas
On location guidance from your mentor, regular image reviews and critique sessions during the workshop




Participants Say…


mentors are very knowledgeable and competent for the workshop. Being well experienced in different types of landscape photography, they guided the group excellently on all aspects from the gear usage, to the aesthetic aspects of it. Would certainly like to join them for future sessions or tours like this. – Mithun Kumar

---

Places chosen for on the field learning was outstanding. – Vikram R

---

Everything was just Perfect… Appreciate the meticulously planned itinerary.. Do keep up the good work! – Anil Dev

---

Awesome Mentors… Stunning Locations… – Chandan Kumar

---

[Darter Photography Tour Leaders] are the right people to mentor this course. Their enthusiasm is very infectious! – Lavanya R

---
Workshop Content
This landscape photography workshop will cover the following topics in theory and outdoor practice.

Understanding what is landscape photography – definitions, scope and fundamentals.
Understanding composition, colour and light for landscape photography.
Understanding the techniques, camera use, settings, capabilities and limitations.
Understanding the equipment needed, best suited gear for landscape photography.
Landscape photographers' workflow – scouting, assessment and shooting.
Night photography and long exposures.
Image reviews and critique sessions.
Workshop Details and FAQ – Is this Workshop for You?
This workshop will help you learn the intricacies of making beautiful landscapes images, using the seascapes of Gokarna as a platform for the purpose. The workshop doesn't impose any prerequisite in terms of equipment or photography skills of the participants. Join us if the idea of making beautiful landscape images appeals you.
Visit our tour faq to know more details about how our photography workshops and tours are conducted.
Following equipment are recommended to maximize from the practice sessions of this workshop. Do keep in mind that these equipment are not mandatory for joining the workshop.
A tripod.
GND and ND filters
We recommend carrying a laptop on this workshop. However, it is not mandatory to carry one.
If you'd like to rent photography equipment for this workshop, you could do so through our photography rentals partner – Bookmylens.
Detailed Itinerary
This workshop is split into several classroom and outdoor sessions. Mornings and evenings are typically spent shooting, while afternoons are dedicated to indoor instruction sessions. Please note that our photographers may change this itinerary according to the shooting conditions, weather and other parameters to maximize the photography and learning opportunities.
During the three days, we visit Om Beach, Kudle Beach and a few other beach-fronts around Gokarna. We also travel and photograph the river-side landscapes around Gokarna, and have an evening for walking around and photographing the town.
Day 1

Arrive, check-in and breakfast
10.30am to 1pm – introductions and ice-breaker followed by first indoor session on landscape photographer
3.30pm to 7pm – outdoor session on the beaches – Om Beach and around till sunset.
Post sunset – outdoor session on long-exposure landscape photography.
Day 2

5am – early morning excursion for riverside photography.
11.30am to 1pm and 3pm to 4.30pm – indoor sessions.
3.30pm to 7pm – outdoor session on the beach near the town and in Gokarna.
9pm to 10pm – Night photography and long exposures at Om Beach.
Day 3

5am – early morning excursion for beach-side photography; back for breakfast.
Post breakfast – Beach-side walks with the camera near Kudle Beach or half-moon beach, as decided by the mentor
Post lunch – Study and group review the images made so far.
5pm onwards – free time, walks in and around Gokarna temple and the streets before departure.
Workshop Price
The cost of this workshop is Rs.19,650 per person.
The cost includes:

Workshop fee with services of the mentor.
Accommodation on twin sharing basis in spacious air-conditioned rooms at Om Beach Resort. Single travellers may be paired with other participants; single occupancy requests can be facilitated on request at an additional cost.
All local Transportation on all days of the workshop and pick up/drop off from/to bus-stop or train station in Gokarna.
All meals during the workshop except dinner of Day 3.
Photography sessions, expert advice and assistance, image reviews and critiques on all days.
The cost does not include:
Travel to Gokarna and return travel from Gokarna to your location. Please let us know if you would like us to facilitate your travel bookings. For more details see 'Getting there' section to the right.
Dinner on Day 3
Additional food or beverages ordered
The workshop begins on the morning hours of Day 01 around 9am and end by 5pm on Day 03. However, early check-in the morning of Day 01 and late check-out on Day 03 evening is available at the hotel subject to availability, at the hotel's discretion.

Getting There
We can facilitate your arrival and departure to Gokarna on request. Participants arrive in Gokarna on Day 01 morning and will depart on the evening of Day 03. Below are the suggested travel options.
From Bangalore
It is recommended that you take an overnight bus from Bangalore to Gokarna on evening before Day 01, and depart by bus from Gokarna to Bangalore on Day 03 evening. We can handle your bus ticket booking from Bangalore on request.
Participants from Bangalore may find bus option to be most convenient.
A direct train connects Bangalore and Gokarna, but takes twice as long. You can also fly into Goa airport, which is about 3 hours (150km) from Gokarna. We can organize your transport from Goa Airport on request.
Driving from Bangalore is an option as well (about 500km).
From Mumbai.
Matsyagandha Express (train 12619) connects Mumbai with Gokarna directly. However, Karwar station (about 50km / 1 hour drive) has much better train options and timings. We can organize your pickup from Karwar on request.
You can also fly into Goa airport, which is about 3 hours (150km) from Gokarna. We can organize your transport from Goa Airport on request. Please note: Due to cross-border regulations between Goa and Karnataka, taxis usually cost 2x the usual fare for the same distance!
Some direct bus services are also available.
From other cities.
Goa Airport is the nearest well-connected airport from Gokarna, which is about 3 hours (150km) drive. The nearest well-connected train stations are at Madgaon (2.5 hours), Karwar (1 hour) and Hubli (3.5 hours).
Your Photography Mentors
Guest Mentor: Dinesh Maneer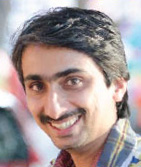 Dinesh Maneer is a photographer from Bengaluru, India. His photographs are mainly focused on landscapes, portraits and culture of his home state Karnataka. He spends his most of the leisure time traveling through all over of Karnataka documenting unknown fading cultures and unseen landscapes. His photos and articles have appeared in many group exhibitions, magazines, online magazines and newspapers.
Hailing from coastal Karnataka at a place not far from Gokarna, he knows and understands the landscapes here more than any other photographer. He has also spent a lot of time capturing the colours of Gokarna's seascapes and river beds, making some of the finest landscape images that anyone can boast of. Dinesh is also known for his friendly approach, willingness to be available to help and share his knowledge on photography.
You can see his work online at dineshmaneer.com.
Registration
For further information, email us at photography@darter.in or call Sreedevi (+91-7022166822).