Looking for a Himalayan Photography in early 2018? Also on our calendar is an extraordinary
Winter Ladakh phototour
(Feb 2018).
The photography tour to Lahaul & Spiti is a superb mix of jeep Safaris, walks in the mountains, living with villagers, camping near pristine lake deep in the mountains combined with on field learning in photographing the exotic locations. Travel with us on this mentored photography trip and return with memories that linger and learning in photography that remain with you for a lifetime.

This tour is a part of our highly commended Himalayan photography tours, designed by mentors with considerable know-how in travelling and photographing in the region. Join us today on this unforgettable and exclusive experience.

Jump to ◆ Overview ◆ Testimonials ◆ Itinerary ◆ Tour Highlights ◆ Is this tour for you? ◆ Tour Price ◆ Tour Mentor ◆ Detailed Itinerary ◆ Photographs by participants ◆ Sign Up

Darter 'HIMALAYAN EXPERIENCES' are photography holidays in the picturesque Himalayan highlands with rich immersive experiences of landscapes and culture.

Tour Dates

July 14-21, 2018

---

Tour Price – ₹66,850/-

---

Max group size: 10 only



Overview – Lahaul & Spiti

One of the still unexplored and insanely beautiful stretch of the Indian Himalayas, Lahaul and Spiti is a valley of stark landscapes and high snowy peaks stretching to the sky. Gurgling rivers and crystal clear lakes dot the highlands of Lahaul, while an ancient civilization has survived for nearly a thousand years and has preserved its culture against the onslaught of modernity in Spiti. The faraway valley connected only through a narrow road that traverses through mountains over 10,000 feet high, this region offers vistas and heritage that can keep a travel photographer in a click-frenzy for months together.

This photography tour is a unique combination of jeep safaris, short & easy walks, exploring villages deep in the mountains, camping near pristine lakes, driving along rivers flowing fast through the mountains, all keeping photography in mind. We will not only spend time learning the nuances of photography in these exotic locations, we take enough time in all the places to let the experiences sink in, and come back enriched with tales of a terrain that is much isolated from the modern world.





Participants Say…

I made memories for a lifetime… learning everything about landscape and portrait photography was fun and inspiring…Hoping to make new memories soon with more trips – Shruthi, Bangalore.

---

The scenery on this trip exceeded expectations..! I was very impressed with the way the trip was put together and I really like the Darter 'style' – fun and laid back but serious about the photography. – David M, Singapore.

---

I felt I have learnt a lot… Thank you again for this wonderful trip – Sara K, Jakarta.

---

Delivered everything that was promised… Excellent choice of places and landscapes. – Chandra M, Hyderabad.

---

Also see: Photographs made by participants
Dates & Itinerary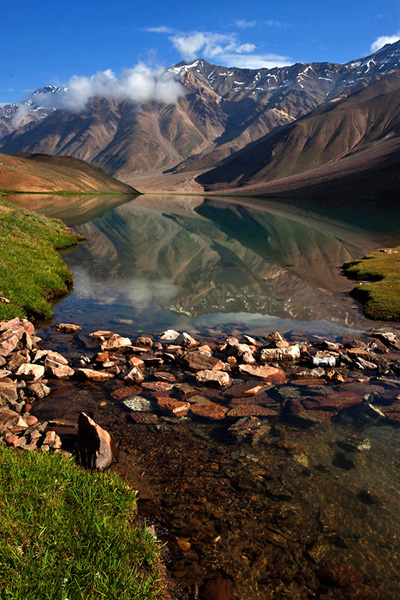 Date: July 14 to 21, 2018
Itinerary
To understand more about the places we visit and things we do, do not forget to see the detailed itinerary.
Day 01 – Saturday – Arrive at Manali, briefing and photography sessions. Stay at Manali.
Day 02 – Sunday – Drive from Manali to Kaza through scenic mountain roads of the High Himalayas, passing Rohtang Pass and Kunzum Pass; stay in Kaza
Day 03 – Monday – Rest day for acclimatization; evening visit to the 800-year old Ki Monastery with magnificent views of Spiti River Valley.
Day 04 – Tuesday – Drive to scenic Langza Village flanked by brilliant 6000m snow-peak right nest to it; stay with the villagers at a homestay in Langza
Day 05 – Wednesday – Morning walks in the village in the green peas and barley fields among the mountains. Drive to nearby high-altitude villages. Stay in Langza
Day 06 – Thursday – Drive towards the magnificent Chandratal Lake, provided the road to Chandratal is open (it normally is at this time of the year) and camp in the mountains near the lake.
Day 08 – Saturday – Free time at Manali in the morning. Checkout in the afternoon.
Photographs by Participants
Here is a collection of images made by participants of this tour in the previous years.
Also see: Images made by Chandra M, Anil Dev and Dhruva Suresh, who travelled with us on this tour.
Lahaul & Spiti on our photography blog
Tour Highlights
Drive through some of the most amazing landscapes in one of the remotest regions in the Indian Himalayas.
See and photograph the views from high passes of Rohtang and Kunzum La
Camping in the heart of the mountains, near the clear blue expanse of Chandratal Lake surrounded by high peaks, subject to road being open.
Visit the a Buddhist monastery more than 800 years old, which has followed an ancient tradition of Tibetan Buddhism.
Visit to sights specifically chosen keeping photography opportunities in mind
Expert help and advice with photographing culture and landscapes of Lahaul and Spiti
Constant interaction and assistance on field by photography experts with an experience of travelling in Lahaul and Spiti
Image reviews by photography experts
Is This Tour For You?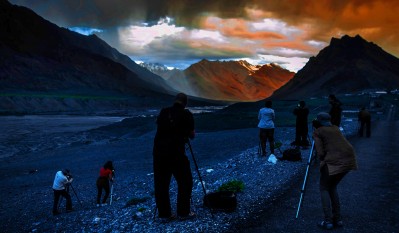 This tour is for everyone who loves to explore the exotic and beautiful landscapes deep in the Himalayas. We will be travelling to places that are less visited by tourists, to see and photograph some unparalleled landscapes in the country.
The tour is designed to help participants learn the nuances of making beautiful photographs of the mountain scenery and the culture. Note that the participants are not required to be experts in photography or carry professional equipment. Beginners and newbies as well as serious photographers benefit through our personalized attention to photography sessions and on field assistance. Non photographers interested in exploring Lahaul and Spiti are welcome too.
Can I bring my non-photographer partner with me?
Yes, you can. We visit many beautiful places in Lahaul-Spiti and having a good time during the trip is as much on the agenda as photography is. Your partner will enjoy the journey with the group. However, non-photographers should note that the our itineraries are catered to photograph-enthusiasts and are generally slower-paced than regular travel itineraries. Also please note that we do not offer a separate non-photographer pricing.
I am not a keen photographer. But I want to visit Lahaul and Spiti with your group. Can I still join?
Yes. We visit many beautiful places in the region, and having a good time during the trip is as much on the agenda as photography is. However, non-photographers should note that the our itineraries are catered to photograph-enthusiasts and are generally slower-paced than regular travel itineraries.
Is there a lot of walking/trekking involved?
Not really. Most of the places we go to will be reached through vehicles. But the region yields to short walks, especially in Chandratal area and Langza Village. There are no strenuous, long distance walks or full-day hikes. Nor do we have walking as a necessity to reach a destination, which means that you may opt out and rest instead of going on a walk if you feel tired. We believe that most people in reasonably good health should not have any problems with most of the activities through the tour. Speak to us if you have any doubts.

Also refer to our photography tours faq for more information.
Tour Price
Tour price: Rs.66,850 per person.
The cost includes

Accommodation on twin sharing basis
Transportation on all days of the tour
All meals during the tour except in Manali
Permits and all entry fees
Photography sessions, expert advice and assistance, image reviews and critiques on all days
The cost does not include
Travel to Manali and return travel from Manali to your location.
All meals on Day 1 and on Day 8; dinner on Day 7 (all meals in Manali)
Additional food or beverages ordered
Note:
1. Please let us know, if you need any assistance in travelling from Delhi to Manali and return.
2. The tour begins at 12pm on Day 1 and ends at 12pm on Day 8. Early check-in in the morning of Day 1 and late check-out on Day 8 is available at the hotels, subject to availability.
3. Please note that the itinerary is subject to favourable weather and road conditions. In case of bad weather and inaccessibility to a destination, we will do our best to make alternate plans. The cost of the tour or any part of it will not be refunded in the event of unfavourable conditions anytime during the tour days.
Accommodation

Accommodation will be in comfortable hotels on the days we are staying in Manali and Kaza. We will be camping near Chandratal Lake in tents on Day 6, subject to roads being open. We will be staying at basic home-stays in Langza.
Your Photography Experts
Arun Bhat

Arun Bhat is a multiple award-winning, internationally published photographer with more than a decade of experience behind the camera. He has conducted workshops and tours in several locations across Asia, including Dubai, Myanmar, Cambodia, Bhutan and destinations all over India. You can find his works at www.paintedstork.com
While he has exposed himself to multiple genres of photography that expands to travel, studio work, real-estate, landscapes and much more, he is more known for his prowess in travel photography. His experience has helped him emerge a master in composition, storytelling and in framing the right moods at the right moment.
Arun has been mentoring photography enthusiasts for than five years now, designing and conducting a variety of photography workshops and tours that help people elevate their photography beyond conventionally recognized ideas.
Some of his very popular travel images were photographed from Lahaul and Spiti Region. You can view some of his works at www.paintedstork.com
Detailed Itinerary
Day 01. Saturday. Arrival in Manali, briefing and photography sessions, free time to spend in Manali.
We will arrive at Manali this morning and check-in to our comfortable hotel. In the afternoon, your photography expert will brief you on the exciting days ahead in the heart of the Himalayas and take you through an elaborate session on photographing the landscapes, people and culture of the region, also describing photography opportunities waiting for you for the whole of next week. You will have some free time on arrival and also later in the evening to explore the town.
Day 02. Sunday. Manali to Kaza, driving through scenic mountain landscapes.
We leave Manali early in the morning and drive up slowly towards Rohtang Pass – perhaps the most well-known pass and most easily accessible of the high passes in the Himalayas. The drive to the pass is a steep climb and offers views of some of the most dramatic vistas of rocky cliffs and green slopes.
Driving over Rohtang pass at an altitude above 13,000 feet, we are suddenly led into no man's land as we enter into the valley of Lahaul. Civilization and hustle bustle of the everyday world is left behind and completely forgotten in its silence. There are no houses, no people, no vehicles to give way to or anything to remind of the world we have left behind. A narrow road that splits the mountains reminds that we are still connected with the world, and also gives us access to the terrain that almost feels uncharted. Lahaul and Spiti region is a desert in the higher ranges of Indian Himalayas, where nothing more than tiny grass a few inches tall grows. Stark mountain slopes stretch as far as the eyes can see, and the peaks keep growing taller and taller as we look ahead.
We drive along the valley of Chandra River, passing through the heart of the Himalayas and stopping frequently to gawk at unbelievable views and capture images that would keep you excited about the upcoming journey.
We will drive via unpeopled Lahaul region's dramatic landscapes and over the high Kunzum Pass before entering the sparsely populated Spiti Valley. Kunzum Pass is nearly 15,000 feet high, and needless to say, offers amazing views on the way up and down. Tiny yellow flowers grow along this landscape surrounded by 20,000 feet high peaks, often turning the ground into a carpet full of colours. Descending from Kunzum, we will leave Lahaul Region and enter Spiti Valley. Lahaul is stark, rugged, uninhabited and has its own beauty, while in Spiti, you will suddenly see patches of greenery, plateaued lands and sparse habitation. In some time, you will see Losar, the first village since we crossed Rohtang early in the morning. Now the road will course along Spiti River, with some interesting formation on the slopes along the way and beautiful views of highlands. In Spiti, besides the breathtaking landscapes under clear sky, we will also visit ancient monasteries and photograph beautiful people of the valley. Tonight's stay will be at Kaza where your room's windows will open to the bed of Spiti River and the tall mountains beyond.
Day 03. Monday. Rest, acclimatization and evening visit to Ki Monastery.
We are at an altitude over ten thousand feet today. Our body takes time to adjust to the rarefied air, and requires acclimatization. We rest it out for much of the day indoors, during which we will have discussions related to photography.
Later, in the second half of the day, we will visit the 800 year old Ki Monastery, where we witness the monastic Buddhist culture of Spiti Region. A friendly monk from the monastery will show us around the monastery and explain the significance of everything we see inside. The centuries old interiors of the monastery are greatly photogenic. The windows of the monastery offer brilliant views of Spiti River, the valley below and the high mountains with snow-peaks.
Day 04. Tuesday. Drive to scenic Langza Village. Stay at a homestay in Langza
We will allow for a relaxed morning today, let you cling to the bed and feel the luxury of waking up late again. But before the sun is very high, we will be ready to explore the jewels of Spiti.
In about an hour, we are at Langza Village, a place as picturesque and green as it can get anywhere in such high altitudes. You will be surprised how beautiful Langza is. This is a small hamlet of a few dozen houses surrounded by barley and green pea fields, boasting incredible views of 20,000 feet Chau Chau Kang Nilda Peak (it feels like you can almost touch it by extending your arms!). In the evening, we have time to walk the fields, admire the tall statue of Buddha on a ridge, speak to villagers and play with kids, all the while making photographs that you will remember fondly, assisted ably by our photography lead. It is such a simple village filled with happy, welcoming people, that Langza will remain a place not just as a visual treasure in your head, but will permanently take up a part of your heart as well.
In the night, we will have a go at photographing the star studded sky, with the snow peak of Chau Chau Kang Nilda glittering in our frame. This will be an experience you will never forget. Take our word for it!
Day 05. Wednesday. Morning at Langza, visiting high-altitude villages of Spiti Valley.
We get to spend part of the morning wandering in the Langza. Later in the day, before lunch, we spend time driving in the high-altitude villages near Langza – Komic and Hikkim. You will not fail to wonder how a civilization has survived in such high altitudes for several centuries. And the grand setting of high-altitude mountains will follow you wherever you go!
Day 06. Thursday. Drive to Chandratal
We will start early in the morning and make a slow drive to Chandratal, enjoying the views along the way. We will camp in the evening at a walking distance near the calm blue waters of Chandratal Lake. Please note that visiting and camping near Chandratal are subject to road being open, as the conditions of the road to Chandratal are unpredictable and changes frequently.
We spend a long evening walking along the banks of a blue Chandratal Lake surrounded by mountains on all sides save for an outlet. This place is perhaps the finest creation of nature that our photographers have ever witnessed. We let the words take backseat now, and let the pictures tell you how beautiful Chandratal is.
Day 07. Friday. Morning walk to Chandratal; drive to Manali.
If your heart is not quenched by an evening in Chandratal, you have the option to brave the morning's cold weather and make another visit to the lake. It is incredible how the light conditions make the lake appear very different from previous evening.
Later, after a good breakfast, we head back to Manali, stopping occasionally for some river side photography and also to photograph Bada Shigri, the largest glacier in all of Himachal.
Day 08. Saturday. A relaxed easy morning, tour ends by noon.

By now the group would have bonded so well, if our experiences in the past trips are to go by, we would already be making next travel plans. We spend the morning hours sharing our experiences and pouring over an awesome collection of images over breakfast. We will spend the morning hours together seeing images and happily reminiscing the days in Spiti before checking out in the afternoon.
Registration
Contact us at the email/numbers below to book the tour.
email: photography@darter.in
Tel: 9880006460 (Arun) / 97400 83260 (Shreeram)
Alternately, fill in the following form to get in touch with us regarding the tour.