We also have organized air tickets from Delhi to Leh and return at
below current market price
for travellers on this tour.
See
more details
at the Air Tickets section below in this page.
Ladakh – the Himalayan realm needs no introduction! Explore the mountains as you photograph the stark yet beautiful landscapes of Ladakh, capture the beauty of super-blue lakes, see the views from the highest motorable road in the world, watch wildlife that can be seen nowhere else in the country and witness a culture that has kept its traditions alive for almost a millennium. Darter's Mountains and Monasteries Tour is specially designed to maximize photography opportunities and capture the deeper essence of Ladakh.

So, what are you waiting for? Hop on aboard on this dream photography tour!

Jump to ◆ Itinerary ◆ Tour Highlights ◆ Is this tour for you? ◆ Tour Price ◆ Tour Mentor ◆ Detailed Itinerary ◆ Sign Up

Darter 'HIMALAYAN EXPERIENCES'

are photography holidays in the picturesque Himalayan highlands with rich immersive experiences of landscapes and culture.

Tour Dates

June 09-17 , 2018


---

Tour Price – ₹68,850/-

Max. Participants – 11

---
Dates & Itinerary
Tour Dates: June 9-17, 2018
Itinerary
Day 01 Rest day in Leh for acclimatization. Tour orientation and overview of photography in Ladakh in the day. Overnight at Leh.
Day 02 Visit the confluence of Indus & Zanskar and Basgo Fort; Shanti Stupa at Leh in the evening. Overnight at Leh.
Day 03 Drive to Nubra Valley crossing over the mighty Khardung La. Evening at Hunder sand dunes. Overnight at Nubra Valley.
Day 04 Explore villages around Nubra Valley. Evening at Diskit Monastery. Overnight at Nubra Valley.
Day 05 Village walk early in the morning. Drive back to Leh. Overnight at Leh.
Day 06 Drive to Pangong Lake, with a visit to Thiksey Monastery on the way. Great scenery and photography along the way and at Pangong Lake. Overnight at Pangong Lake.
Day 07 Morning photography at Pangong Lake. Drive from Pangong Lake to Leh. Overnight at Leh.

Day 08 Drive to Stakna Monastery in the morning. Relaxed afternoon and evening for exploring the town. Ovenight at Leh.
Day 09 Depart from Leh after breakfast.
Scroll down to Detailed Itinerary for more details on each day of the tour.
Tour Highlights
Travel through some of India's most brilliant landscapes, with breathtaking views at every turn
Drive up some of the world's highest motorable roads at Khardung La and Chang La
Experience the sand dunes in the midst of a beautiful riverine valley, with mountains towering all around
Stay on the banks of one of the most beautiful lakes in the world
Marvel at the architectural wonder and appreciate the cultural traditions at centuries-old monasteries
Visit places specifically chosen keeping photography opportunities in mind at an easy pace suitable for photography
Sessions during the tour that enable you to capture best images of Ladakh
Constant interaction and assistance on field by photography experts having considerable experience travelling in Ladakh
Get your Photographs Reviewed by your photography mentor regularly through the tour
Is this tour for you?
This tour is intended for amateur as well as serious photography enthusiasts with an interest to visit and photograph the beauty of Ladakh. No prior expertise or experience in photography is necessary, as our photographers will be there to assist you at every level. You may carry any camera – a simple aim-and-shoot or a DSLR. Travel enthusiasts who are not photographers but keen to experience the multiple facets of Ladakh can also benefit from the tour.
I am not a keen photographer. But I want to visit Ladakh with your group. Can I still join?
Yes, you can. We visit many beautiful places in Ladakh. And having a good time during the trip is as much on the agenda as photography is.
Can I bring my non-photographer partner with me?
Yes. The answer is exactly same as in the case of previous question. We visit many beautiful places in Ladakh and having a good time during the trip is as much on the agenda as photography is. Your partner will enjoy the journey with the group.
Is there a lot of walking/trekking involved? Is this a difficult tour?
Not really. We will be travelling in Ladakh in four wheelers, as all the places we are going to are connected by road. We may do some pleasant walks in the mornings/evenings without straining ourselves. The trip is meant to be easy on your legs. But for those who want to, there are some days in the trip where you can go on long walks on your own in the wide open landscapes of Ladakh.
Ladakh's high-altitude mountain air is thin and our bodies need to be acclimatized to the environment. We will spend the first day on arrival resting and getting used to it, to ensure that you will not have any difficulties during the tour.
What is the fitness level required for this tour? Are there any age restrictions?
People who are generally fit to manage their day-to-day life independently should normally not have any problems attending this tour. People of any age group can visit as well – visitors over the age of 60 are routinely seen walking around in several places across Ladakh.

However, we suggest that you check with your doctor once, especially if you are suffering any chronic illnesses like asthma, blood pressure or heart ailments.
Also refer to our Tour FAQs for more information.
Tour Price
Tour Price: Rs.68,850/- per person (inclusive of all applicable taxes)
The tour price includes

Accommodation on twin sharing basis
Transportation during the tour in non-A/C vehicle with 3 participants per vehicle
All meals during the tour, except Dinner on Day 5 and Day 7 and Lunch on Day 8
Inner line permits and all entry fees
Photography sessions, expert advice and assistance, image reviews and critiques on all days
All applicable taxes
The tour price does not include
Travel to Leh and return travel from Leh to your location
Insurance
Additional snacks, bottled water or other beverages ordered
Anything else that is not part of the includes list above
Please contact us for single occupancy rates.
Please note:
The itinerary mentioned in this page is subject to favourable weather and road conditions. In case of bad weather and inaccessibility to a destination, we will do our best to make alternate plans. The cost of the tour or any part of it will not be refunded in the event of unfavourable conditions anytime during the tour days.
Dinner on Days 5 and 7 and Lunch on Day 8 is exempt from the price above. On our previous tours, we've seen that some participants would like to have their schedule free at that time to go shopping or just walk around Leh at their own leisure. We wouldn't like to impose a schedule on you by having fixed dinner and lunch timings on those days.
All participants would have to sign a Release of Liability, Assumption of Risk & Arbitration Agreement before joining the tour.

Accommodation
Accommodation will be in comfortable hotels on the days we are staying in Leh. At Nubra Valley (Days 03 and 04), we stay in simple but comfortable resorts in the valley. At Pangong Lake (Day 06), we will be camping in tents near the lake.
Air tickets from Delhi to Leh and return
We have a group booking available at below market price for travel from Delhi to Leh and return. Below is the schedule available.
Delhi to Leh: Go Air G8-215 departing from Delhi on 9th June 2018 at 5:10am and arriving in Leh at 6:30am
Leh to Delhi: Go Air G8-194 departing from Leh on 17th June 2018 at 10:30am and arriving in Delhi at 11:50am
We highly recommend that you be a part of this group from Delhi. Please get in touch with us to avail these limited tickets.
Your Photography Mentor – Shreeram M V

Shreeram M V is a professional outdoor photographer, specializing in travel and wildlife photography. He is the co-founder of Darter Photography that specializes in providing photography services such as workshops and outdoor photography tours. He lives in Bangalore, India.
What started off as a fascination for birds in a lake behind his house turned into a journey to different parts of India. For this IIM Bangalore graduate, the passion for travel and wildlife enabled him to charter his own course outside the corporate world. He has explored places as diverse as the rainforests of the Western Ghats, the salt marshes of Kutch, the grasslands of Tal Chapar, the deciduous forests of South and Central India, the high-altitude plateau of Ladakh, the coasts of peninsular India, the forests of North-east India and the islands of Andaman.
Shreeram has spent a lot of time amidst the scenic splendor of Ladakh, photographing the magic of the vast openness, the colourful traditions, the expressive people and the unique wilderness. Along with the experience, his photography expertise spanning across different aspects of travel photography would help you capture the finest of Ladakh with your camera.
See some of his work at Visual Quotient
Detailed Itinerary
Day 01. Rest Day at Leh. Evenings walks in the town.
You will arrive at Leh in the morning after a flight over snowy mountains. Don't forget to arrive early in Delhi Airport and demand for a window seat at the check-in counter. Not everyday does one get to see 15,000 feet high mountain peaks from miles above them. We recommend taking the first flight available in the morning and take the right-side window to see first rays of sun kissing the snowy peaks.
We will spend the day in the hotel, letting the body adjust to the rarefied air at Leh's altitude of 11,500 feet. In the evening, we'll have an orientation session about the tour followed by sessions on landscape and travel photography in Ladakh.
Day 02. Visits around Leh to confluence of Indus and Zanskar, Basgo Fort and Shanti Stupa
Early in the morning, we head out to visit the confluence of Indus and Zanskar near Leh. As the waters of the Zanskar merge into the Indus, the landscape is almost magical. From here, we drive on to Basgo Fort, some 40km from Leh. This ancient fort, almost 5 centuries old, holds a complex of buildings that include some gompas. We'll spend time photographing these monuments and the beautiful villages around them.
From the monastery, we will head back to the hotel for lunch and rest through the afternoon.
In the evening, we visit Shanti Stupa just outside Leh to witness the sunset and see the last rays of sun go over Leh Town and on the distant mountains of Zanskar Ranges. At the Stupa, our photographer will give you practical ideas on photographing the majestic landscapes of Ladakh. Overnight at Leh.
Day 03. Drive from Leh to Nubra Valley via Khardung La.
Having gotten used to 10,000+ feet heights, we will now head towards the highest point that we will ever reach during the tour. Be ready to see the mountainscapes like you have never seen before. As we slowly climb up the Ladakh Ranges towards Khardung La, you will see jagged snowy peaks of Zanskar Ranges challenging the heights we are climbing. Once on top, you will no longer have to crane your neck to see all the mountains rising tall in the distance; those peaks appear almost at your height. Besides the thrill of having gone up the world's highest motorable pass, you will get to see vistas that you will never forget for the rest of your life.
We will continue driving past Khardung La and descend on the other side at Nubra, known for its wide valley, green landscapes, a gushing river, gentle streams, lush agrarian landscapes and shepherds herding their sheep in the evening hours. There is more! In these mountain landscapes with greenery unusual for Ladakh, you will also see a stretch of white-sand dunes that springs a sudden surprise. If we are lucky, we may even see Bactrian Camels roaming the Seabuckthorn jungles of Nubra. It is going to be a pleasant evening today in Nubra, amidst the greenery at the river bed and a beautiful sunset.
Day 04. Nubra Valley.
Today, we drive through Nubra Valley, taking in the changing landscapes of one of India's remotest regions. We'll visit the incredibly beautiful Yarma village on the way to Siachen. On the way back, we visit Diskit Monastery in the evening. The huge golden statue of the Buddha here is a sight to behold.
Day 05. Return to Leh from Nubra Valley.
We will start the day with a walk around a small village near the resort.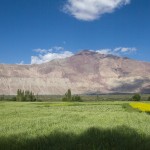 After breakfast, we make a slow and easy drive back to Leh, stopping whenever we wish to capture the landscapes as we pass via Khardung La. We will be back in Leh by afternoon. You can rest through the evening or walk around Leh's market area and do some shopping if you wish to.
Day 06. Drive to Pangong Lake, with a visit to Thiksey Monastery enroute.
Early in the morning, we will head to Thiksey Monastery, a short drive to the east of Leh. The monastery gives us a good introduction to the religious and cultural Ladakh. Thiksey Monastery is home to more than a hundred monks and is one of the largest religious centers in the region. It is a haphazardly spread group of buildings on a crag and its structure is sometimes compared to giant Potala Palace in Lhasa. We will see and capture the beautiful array of small stupas outside the monastery, visit the room hosting two-storey Maitreya Buddha statue and try to decipher some colourful paintings in the monastery's prayer hall. On a lucky day, we may be able to see extended prayers by a gathering of lamas.
This is our day of driving through high passes in a landscape that keeps changing by the hour. After driving upstream Indus River for an hour, we will leave the Indus Valley and head towards the high-altitude plateau of Changthang region. On our way is the formidable Changa La. We get across the pass with our jeeps wading through many icy and clear streams. As we climb up, it is another opportunity to see and photograph a different view of Zanskar Ranges. Soon after we cross Chang La, you will be surprised to see a lot of green grass, unlike the stark slopes we have just left behind. You might see cute and cuddly-looking marmots playing in the slopes. They are timid and some of them may even come and stand next to you expectantly. We recommend not to feed them, but photograph them instead.
Sometime after we cross Chang La, we will see a small but beautiful lake with clear blue waters. We will then follow the stream running off the lake and descend to reach the village of Thangse. Further ahead, we will drive through a narrow valley carpeted with rich green grass and a stream flowing by. Lookout for colorful flowers along the stream bed. But this is not all; the first view of deep-blue waters of Pangong Lake will force you to halt there and gawk at its beauty forever. At Pangong Lake, be ready for a great day of fun and photography, with some amazing lake-scapes, landscapes, stream-scapes, animal and bird life playing in front of your camera.We will be staying next to the lake tonight, watching the sun go down the mountains across the lake.
Day 07. Drive to Leh from Pangong Lake.
We wake up early to have another go at early morning photography around Pangong Lake. After an early breakfast, we start our journey back to Leh, stopping on the way for lunch and photography opportunities. In the evening, we go through a detailed review session of our photographs from the tour.
Day 08. Stakna Monastery
Early in the morning, we set off on the Leh-Manali highway. We will be driving over a cute, tiny bridge along a narrow section of the Indus river to visit Stakna Monastery. Built on a hill overlooking a bend of the Indus, the monastery is located in one of the most scenic locations in Indus Valley. Stakna is a great introduction to the culture and landscapes of Ladakh. The vantage location offers a breathtaking view of the Indus Valley.
The afternoon and evening are relaxed as we review the images clicked during the tour and spend time around Leh's market area.

Day 09. Tour ends.
A week-long tour to the highlands of India finally draws to a close. Early in the morning, we fly out of Leh with many memorable views from the airplane window and many many photographs on our memory cards.
Sign Up
Contact us at the email/numbers below to book the tour. Like all our tours, Mountains and Monasteries tour of Ladakh will have a limited number of participants. We recommend booking early, which also helps you get cheaper flight tickets.
email: photography@darter.in
Tel: +91-98800 06460 (Arun) / +91-97400 83260 (Shreeram)
Alternately, fill in the following form to get in touch with us regarding the tour.