In the remotest corners of Ladakh at altitudes well above ten thousand feet, in places where the roads are nothing more than a patch of tyre marks in the grass, where telephone lines are unheard of and electricity is a dull flicker of tungsten bulbs powered by a tiny solar panel, a community of changpa nomads have thrived for longer than a millennium rearing their livestock–Yaks, sheep and cows–and living with minimal resources.

The 'Life of Nomads Photography Tour' is designed to savour and photograph the life of Changpa Nomads, staying among them by their camps in the highlands of Changthang, Ladakh. This unique photography experience is crafted and led by the triad of a local expert who is a part of the nomad community and two of the finest travel photographers in India.

Darter 'HIMALAYAN EXPERIENCES' are photography holidays in the picturesque Himalayan highlands with rich immersive experiences of landscapes and culture.

Tour Dates

October 6-14, 2018

---

Tour Price – ₹78,450/-

---

Max group size: 10 only
Who are the Changpa Nomads? And other questions are answered here, later in this webpage.

Jump to ◆ Overview and itinerary ◆ Tour Highlights ◆ Is this tour for you? ◆ Tour Price ◆ Tour Mentors ◆ Detailed Itinerary ◆ Sign Up

Inquire with us for assistance if you wish to explore other regions of Ladakh before or after the tour on your own.
Tour Leaders and Photography Mentors
'Life of Nomads Photography Tour' is a unique photography experience that is crafted and led by the triad of a local expert who is a part of the nomad community and two of the finest travel photographers in India.
Arun Bhat

Arun Bhat is a multiple award-winning, internationally published photographer with more than a decade of experience behind the camera. He has conducted workshops and tours in several locations across Asia, including Dubai, Myanmar, Cambodia, Bhutan and destinations all over India. You can find his works at www.paintedstork.com

While he has exposed himself to multiple genres of photography that expands to travel, studio work, real-estate, landscapes and much more, he is more known for his prowess in travel photography. His experience has helped him emerge a master in composition, storytelling and in framing the right moods at the right moment.

Arun has spent hundreds of days travelling in the Himalayas, exploring and photographing the landscapes and cultural heritage of the high mountains. Few people understood the many moods of this magnificent mountain region as Arun does. Travelling in the Himalayas with Arun is something not to be missed!

Manish Lakhani

Few people can boast of having travelled the high Himalayas like Manish has. For more than a decade, he has wandered these mountains on foot, on bicycles and on two and four wheels exploring the corners of the mountains and often making his own path. With this experience, he can also boast of a vast collection of magnificent images of these mountain ranges that can be a cause of everyone's envy.

Manish was born with a love for mountains, which has carried him back to Zanskar, Ladakh, Spiti and other highlands many times over. He has captained some incredible expeditions in the high mountain regions, including the venerated Chadar Trek, which he has led nearly half-a-dozen times during the winter months in Ladakh/Zanskar. Besides being an experienced photographer, he is also a keen cyclist and a mountain enthusiast.

More of his work can be seen at withmanish.com
Overview & Itinerary – Ladakh: Life of Nomads Photography Tour
This unique and exclusive photography experience will have you staying with a fascinating community of nomadic shepherds in one of the remotest locations in India. During the tour, you will interact closely with Changpa people, learn and understand their culture and have opportunities to create interesting images of their way of life.
At the end of this tour, you will not only have made many beautiful images of extraordinary world of Changpas, you will also come back with a deeper understanding and a lot of respect for their culture and lifestyle. You would even have made some Changpa friends with whom you would stay in touch!
This tour is a part of our highly commended Himalayan photography tours, designed by mentors with considerable know-how in travelling and photographing in the region. Join us today on this unforgettable and exclusive experience.
Here is the tour itinerary in brief. To understand more about the places we visit and things we do, do not forget to see the detailed itinerary.
Tour dates: October 6-14 2018
Day 01 – Saturday – Arrive in Leh and rest.
Day 02 – Sunday – Photography session at a village near Leh.
Day 03, 04, 05, 06 and 07 – Monday to Friday – Spend time in settlements of Changpa nomads in Changthang. We will be camping with our own camping equipment in the settlements.
Day 08 – Saturday – Drive back to Leh with a smug expression originating from those beautiful images now stored in your camera!
Day 09 – Sunday – Check-out after breakfast and drive to Leh Airport. Head home with lot of memories, beautiful images and a new set of friends with shared enthusiasm for photography!
The itinerary is designed with a keen focus on photographing the life of Changpa People, and not centered on seeing well-known sights/places. The itinerary may be subject to change, depending on photography opportunities available, weather conditions and any other factors that may affect the journey.

Tour Highlights
Visit, interact with, stay with, learn from and photograph a unique nomadic shepherding community in the highlands of Ladakh.
Drive through, and stay for several days camping in some remote regions in the Himalayas, at some extra-ordinary locations.
Travel with a local – a tour guide who grew up as a nomad, and two of the finest travel photographers in India.
Visit to locations chosen keeping photography opportunities in mind.
Expert help and advice with photographing people.
Constant interaction and assistance on field by photography experts with an experience of travelling in Ladakh
Insights to nuances of people photography during the tour
Image reviews by photography experts
Who are the Changpa nomads? And other questions answered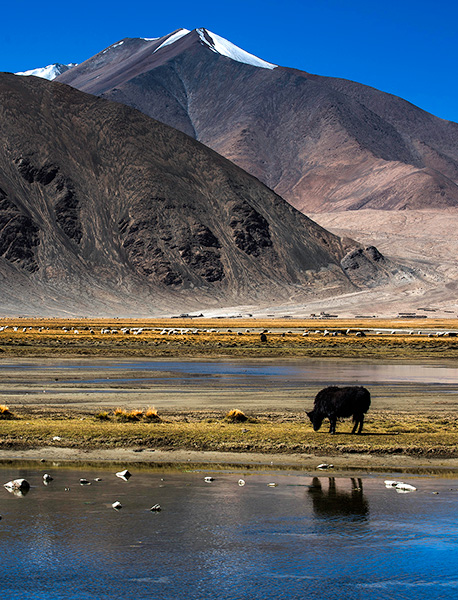 So tell us more about Changpa people: Who are they? What do they do? Where do they live?
Changpa are a nomadic community of pastorals living in the Changthang Plateau in Ladakh and Tibet. They raise yak, sheep and cows and shift thier location with season depending on the availability of grass. Most of the places they camp in are situated well above 10,000 feet, sometime as high as 15,000 feet! Despite the extreme altitude and severe weather, they have learnt to survive in these inhospitable places and have thrived here for many centuries. Their camping areas are usually located at about 5-8 hours driving distance from Leh, travelling towards east.
How do we get there? What is the mode of access?
Despite being one of the remotest locations you can imagine in the trans-Himalayan mountain ranges, Changthang can still be accessed by roads. Sometimes these roads are little more than mud-tracks or tyre-marks in the grass. The places we visit are accessible by vehicles and doesn't require us to go on treks.
We begin the journey from Leh through spectacular mountain regions, stop for a night along the way and arrive in Changthang region the next day.
What kind of places do we visit? What about accommodation?
We begin from Leh and steadily drive further up the mountains. We camp out while we are in Changtahng to enable us to be located among the changpa, allowing us to interact with them closely. Trust us, while these aren't exactly the most comfortable accommodation you have ever stayed in, you will totally love the experience.

What's the weather going to be like?
This is a time when the summer has retreated, temperatures are dipping, but the harsh winter has not yet arrived. Expect day-time temperatures in the range of 10C to 20C. It is usually single digits in the night and may touch zero and below. You should be packing for cold weather. The skies are usually clear this time of the year, and sunshine is abundant all through the day.
FAQ and Is This Photography Tour For You?
This tour is for everyone who would love to interact with, learn about and photograph at the changpa settlements high up in Changthang region. We will be travelling to places that are less visited by tourists.
The tour is designed to help participants learn the nuances of making beautiful photographs of people and their way of living. It's as much about understanding the way of life as it is about photography. Note that the participants are not required to be experts in photography. Beginners and newbies as well as serious photographers benefit through our personalized attention to photography sessions and on field assistance. Non photographers interested in exploring the region are welcome too.
Can I bring my non-photographer partner with me?
Yes, you can. There is much enjoyable about this tour, in learning about the way of life of Changpa people. Your partner will enjoy the journey with the group. However, non-photographers should note that our itineraries are designed keeping photography in mind. We are generally slower than typical travel itineraries and don't make a long sightseeing list. Please note that we do not offer a separate non-photographer pricing.
I am not a keen photographer. But I want to join this tour with your group. Can I still join?
Yes. We visit many beautiful places in the region, and having a good time during the trip is as much on the agenda as photography is. However, non-photographers should note that our itineraries are designed keeping photography in mind. We are generally slower than typical travel itineraries and don't make a long sightseeing list.
Is there a lot of walking/trekking involved?
No, this is primarily a driving trip. Most of the places we go to will be reached through vehicles. But we may, depending on the needs, be doing some short-duration walking at a few places. There are no long distance walks or full-day hikes. Nor do we have walking as a necessity to reach a destination, which means that you may opt out and rest instead of going on a walk if you feel tired. We believe that most people in reasonably good health should not have any problems with most of the activities through the tour. Speak to us if you have any doubts.
Also refer to our photography tours faq for more information.
Tour Price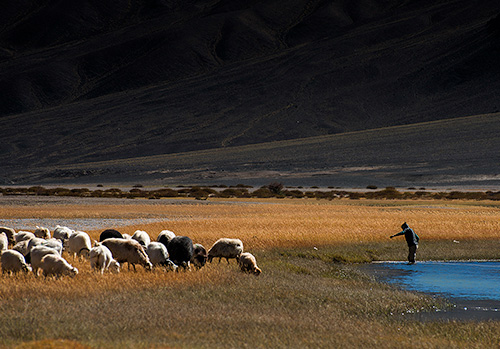 Tour price: Rs.78,450 per person.
(booking deposit: Rs.28,450; balance payable by Sep 5th, 2018).
The cost includes

Accommodation on twin sharing basis in hotels and at tents in campsites
Camping facilities – tents and sleeping bags
Transportation on all days of the tour
All meals during the tour starting with lunch on Day 1 and ending with breakfast on the last day
Permits and all entry fees
Photography sessions, expert advice and assistance, image reviews and critiques on all days
The cost does not include
Travel to Leh and return travel from Leh to your location.
Additional food or beverages ordered
Expenses of personal nature, including tips and laundry
Accommodation
Accommodation will be in comfortable hotels when we are in Leh. On all other days we will be carrying camping equipment with us and camping out in the mountains.

Note:
Please note that the itinerary is subject to favourable weather and road conditions. In case of bad weather and inaccessibility to a destination, we will do our best to make alternate plans. The cost of the tour or any part of it will not be refunded in the event of unfavourable conditions anytime during the tour days.
Detailed Itinerary
The itinerary is designed with a keen focus on staying with, knowing about and photographing the changpa herders in Ladakh, and not centered on seeing well-known sights/places.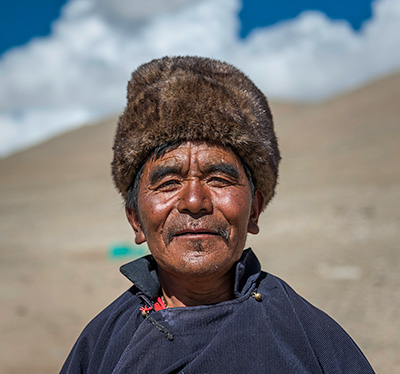 Day 01. Arrival in Leh.
We will arrive at Leh this morning and check-in to our comfortable hotel. This is a day for rest, acclimatization and an ice-breaker session in the evening.
Day 02. Drive to a small village near Leh.
After a leisurely breakfast, we check-out and head to a village near Leh. This is a day to take it easy and continue to acclimatize, though we will spend some time photographing people at the village, and also walking around the village with our cameras, interacting with people and enjoying the mountain weather. We will also have ample time for some photography discussions and to interact with the mentors and rest of the group. Overnight will be at Leh.
Day 03, 04, 05, 06 and 07. Camping in changpa settlements.
On the morning of Day 3, after a leisurely breakfast, we start our uphill drive to Changthang. We should be there late afternoon, giving us ample time to settle down and perhaps plan a few quick rendezvous with changpa people. The process of getting to know our changpa friends, interact with them and perhaps making some images would have begun today.
On Day 4, 5, 6 and 7, we will spend the entire day hanging out with changpa folks, meting families and perhaps following the herders. Our changpa tour leader and photography mentors will be with you all along, facilitating the interactions and helping you in all aspects of photography. Depending on the photography opportunities available, we may break camp and shift settlements as needed. Expect these days to be full of very unique experiences that you would never forget. And indeed, along the way, make photographs that you would never have imagined making until now!
Day 08. Drive to Leh with a smug expression originating from having made new friends and those beautiful images now stored in your camera!
We drive back towards Leh this morning. While you have enjoyed being in the middle of nowhere in amazing locations with interesting people, until now staying at campsites, you will again be relishing the luxury of creature-comforts this evening.
By now the group would have bonded so well, if our experiences in the past trips are to go by, we would already be making next travel plans. We spend the evening hours sharing our experiences and pouring over an awesome collection of images over dinner.
Tour ends this morning.
Registration
Contact us at the email/numbers below to book the tour.
email: photography@darter.in
Tel: 9880006460 (Arun)
Alternately, fill in the following form to get in touch with us regarding the tour.