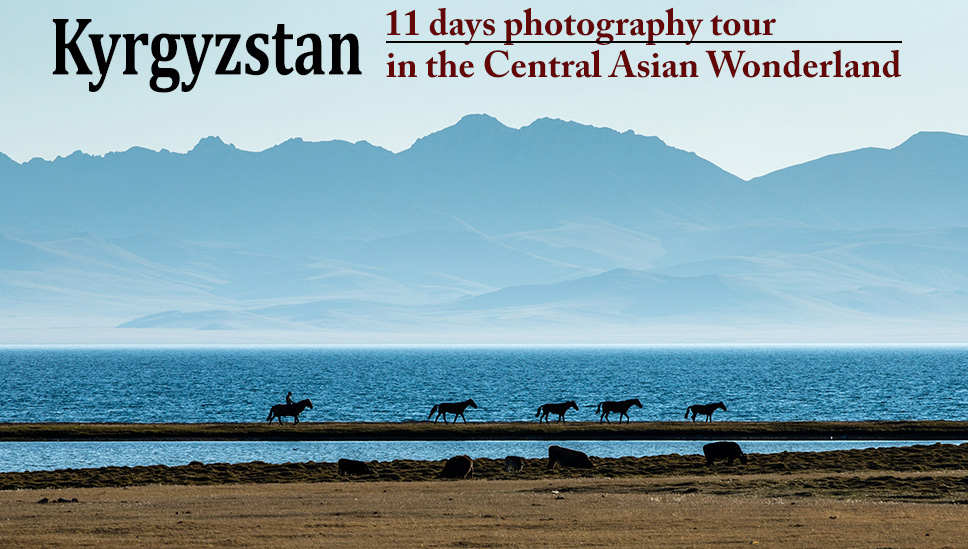 Kyrgyzstan: What to expect…

---

Graceful horses roaming the mountains.
Eagle-hunters of Kyrgyzstan and their powerful birds.
Semi-nomadic shepherds in the highlands.
Undulating mountain landscapes and snow peaks.
Pristine, beautiful mountain-lakes.

Tour Schedule

---

Aug 23-Sep 2, 2018 (sold out)

June 13-23, 2019 (open).
11 days.
Early summer season.

For 8 travellers only.

A Darter Photography Exclusive.
Kyrgyzstan – A Central Asian Wonderland
---
Gently undulating grasslands under lofty snow-peaks and azure lakes trapped in the valleys define much of Kyrgyzstan's landscapes. Jailoos—the rolling meadows in the hills—are summer playgrounds of the magnificent Central Asian horses. Semi-nomadic shepherds riding these horse roam the countryside directing their flock of sheep along the mountain slopes. In the months when the grass is plentiful, the herders setup their yurts—mobile circular dwellings—and let their sheep and horses roam the mountains until the first snow signals the time for retreat. The undulating landscapes, meandering streams that find their way into deep-blue lakes and fast-flowing rivers, the grazing animals that often appear like shifting dots in the faraway mountains and the bright-white yurts that shine in the soft sunlight come together to create a world that has a magnetic romance. For the traveller and photography-enthusiast, Kyrgyzstan is perhaps the ultimate amalgamation of finest travel experiences combined with every kind of photography opportunities bundled together. There is probably no other place that offers so much of diversity packed into a region of this size.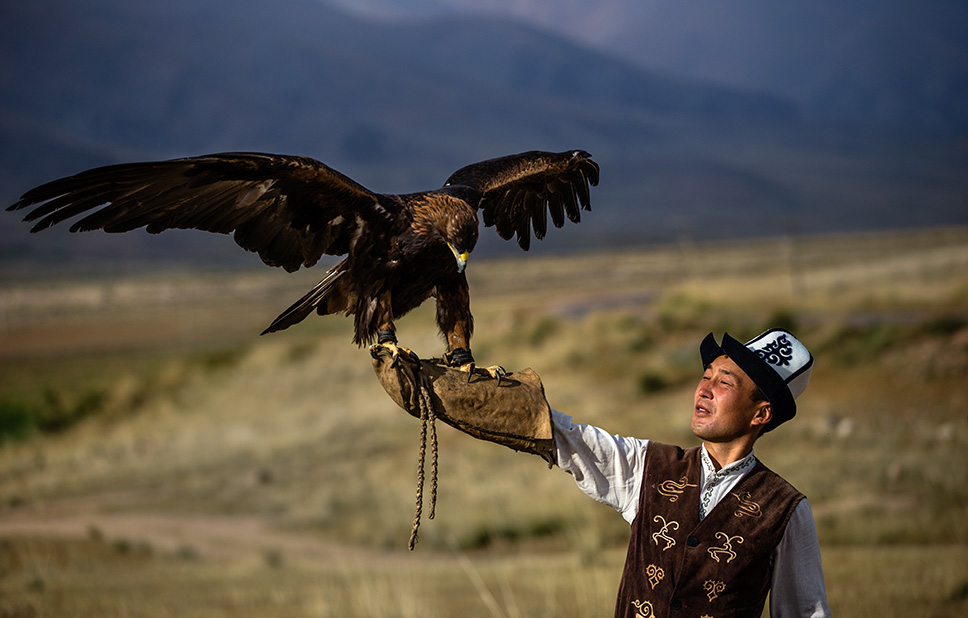 Tour Itinerary in Brief

---

Day 01. Arrive in Bishkek.
Day 02. Drive to Song Kul Lake; photography along the way.
Day 03. Photographing the nomadic life around Song Kul Lake.
Day 04. Drive to Naryn; photography along the way.
Day 05. Drive to the yurt camps at Kol Suu; photography on the way.
Day 06. Photography in the meadows; visit to Kol Suu lake.
Day 07. Drive to Naryn.
Day 08. Drive to Issyk Kul. Spend the evening by the lake.
Day 09. A morning with Eagle hunters; evening visit to Skazka Valley.
Day 10. Drive to Bishkek.
Day 11. End of tour.

---

Tour Dates

Aug 23 – Sep 02, 2018 (full)
June 13-23, 2019 (open)

---

Tour Price – US$2,895 / ₹185,280/-
Booking fee: $895 / ₹55,280; balance payable by 5th March 2019

---

Max group size: 8 only
Led by our renowned travel photographer Arun Bhat, this eleven day photography tour to Kyrgyzstan is designed to take you through the finest photography opportunities that Central Asia has to offer. On this tour, you will drive through the countryside going up and down the mountain landscape, visiting and photographing the semi-nomadic people shepherding their flocks in the undulating slopes. You will be enthralled by fabulous sunsets over endless lakes, view of snow-peaks across meandering rivers and even getting on a horseback for a few hours. This photography tour will leave you with many experiences that will linger for long, and beautiful images that will help you relive those memories forever.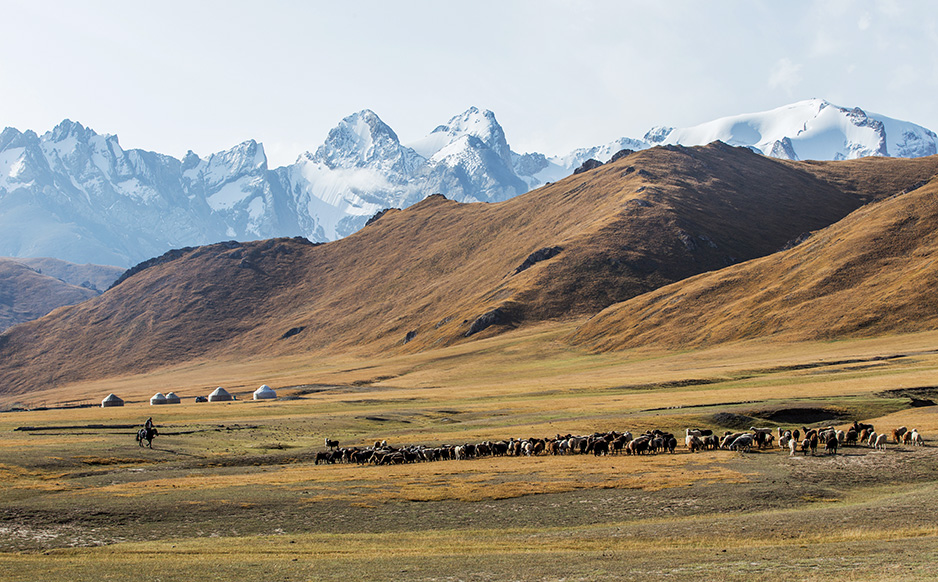 A shepherd herding his flock through breathtaking mountain landscapes.
In the background are yurts, traditional dwellings of Central Asian nomadic families.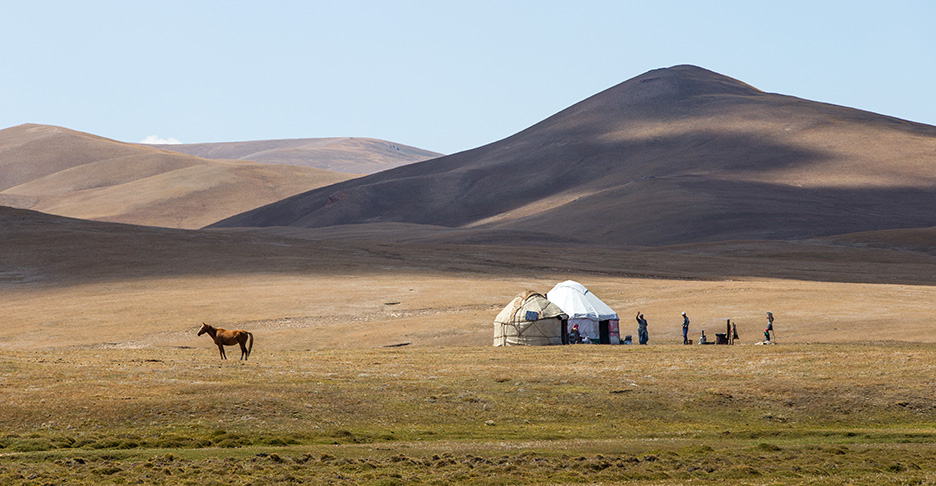 Typical Central Asian landscapes – horses, yurts and rolling hills..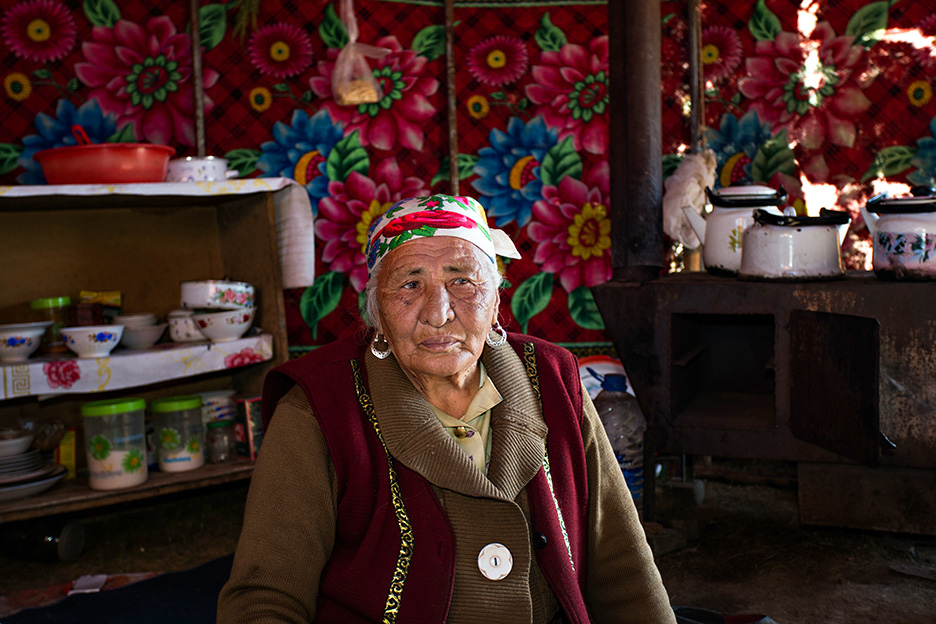 A lady belonging to a shepherd family inside he beautifully decorated yurt.
Kyrgyzstan – About the Country in Brief
---
Kyrgyzstan, or Kyrgyz Republic, is a land-locked Central Asian country that was part of Soviet Union and formed an independent nation when USSR collapsed in 1991. Russian influence is still evident in the country's liberal culture, language and the way of life. Russian is widely spoken and is one of the official languages, as is the local Kyrgyz language.
Kyrgyzstan is one of the first of the former Soviet nations to embrace tourism as a key economic activity and welcome visitors with liberal visa policies. The country's spectacular mountain landscapes, sparse population that has allowed most of the land to remain pristine, the nomadic lifestyle of the highlands, the friendliness and peaceful nature of its people make Kyrgyzstan the ideal country to visit for an experience of Central Asian culture, heritage and landscapes. While visitors' numbers are gradually increasing, it's still a rarely visited region in comparison with other parts of the world that have matching offerings. In several parts of the country, you can still drive around for an entire day and encounter only a handful of travellers (or locals for that matter) along the way. Yet, the infrastructure, a lot of it established during the Soviet days, is conducive for travelling in reasonable comfort. The famed ancient silk-route passed through Kyrgyzstan, and the history is replete with references to Chengiz Khan, Timur Lang and of traders at caravanserai, although not much has remained as treasures of the past.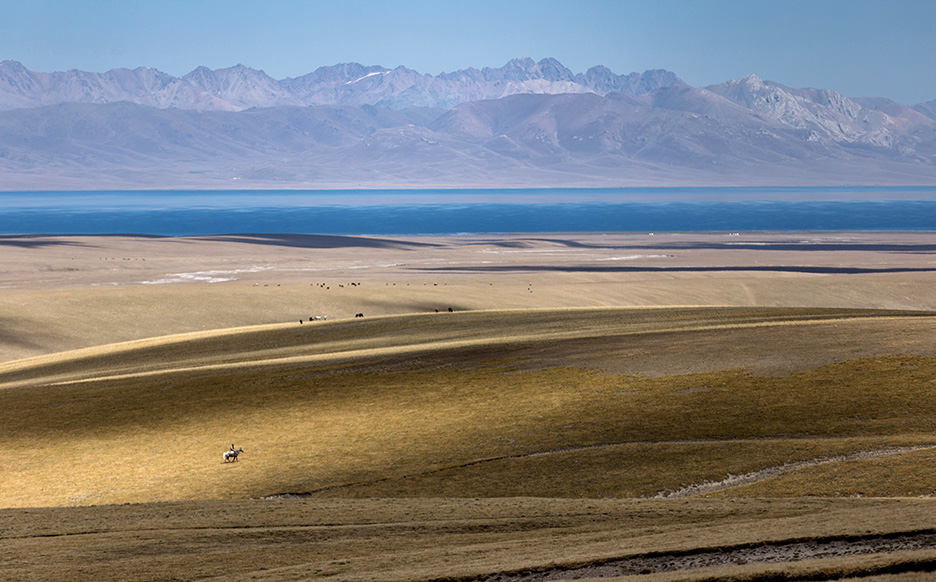 A rider-herder watches over his flock of sheep in the grasslands surrounding Song-Kul Lake.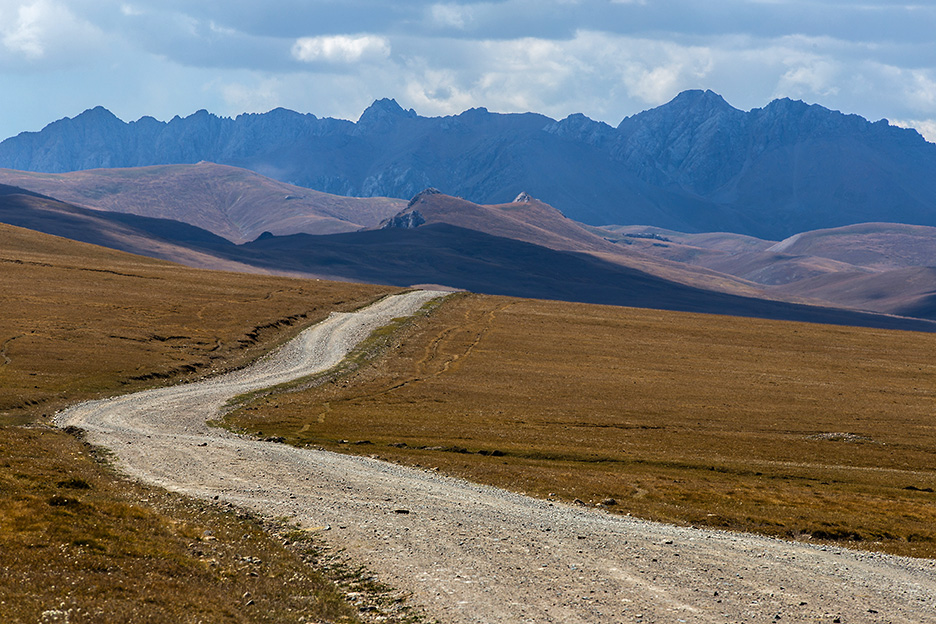 Beautiful mountain landscapes of Kyrgyzstan.
Kyrgyzstan Photography Tour – Highlights.
---
Photograph the semi-nomadic shepherds riding on their horses and herding their sheep in the mountains.
Visit their yurt dwellings, experience and understand the life of Central Asian nomad people.
Spend time with famed eagle-hunters with generations of experience in falconry; photograph them in action in an exclusive private session.
See and photograph several high-altitude lakes in spectacular locations.
Stay in yurts and be part of first-hand experience living in the Central Asian highlands.
Drive cross-country through the mountainous region, several parts of it barely inhabited and very sparsely populated with yurt-dwelling nomads.
Go on a short ride on the magnificent Central Asian horses and visit a remote mountain lake trapped amidst steep mountains all around it.
Go swimming, if you wish, in an ocean-like expanse of a mountain lake with beautiful views of snow-peaks all around.
Services of your photography mentor for the entire duration of the tour.
On field and off the field assistance in photography including a mentoring sessions and photo critique sessions.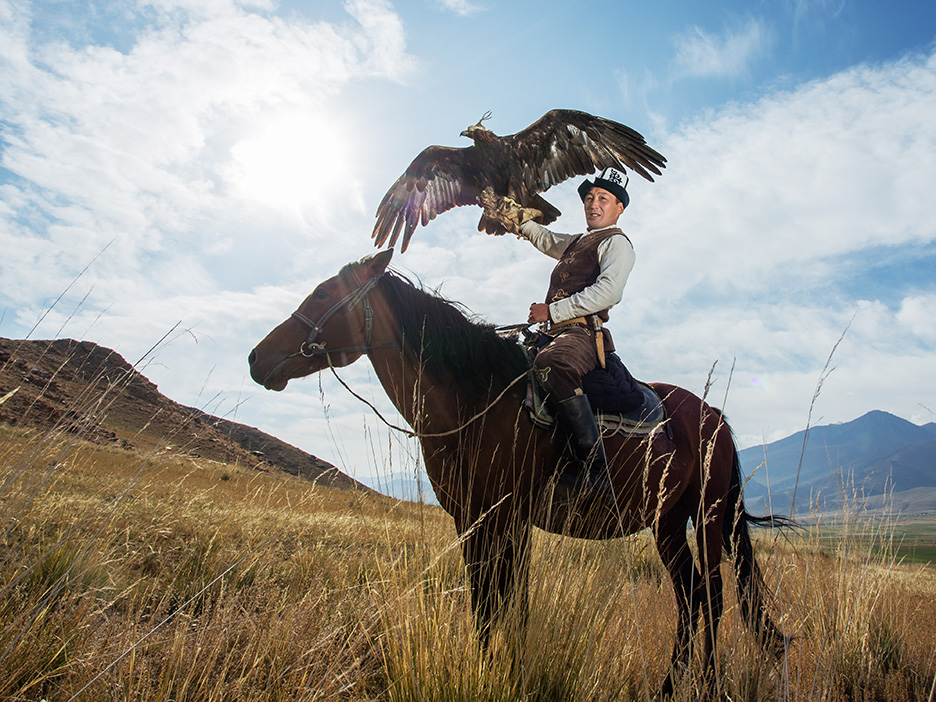 An Eagle Hunter with his eagle.
Kyrgyzstan Photography Tour – Detailed Itinerary.
---
Day 01. Arrive in Bishkek
Arrive in Bishkek; introductions and briefing.
Day 02. Drive to Song Kul Lake (About five hours)
We are quickly dashing out of Bishkek and into the countryside. In fact, any place outside Bishkek in Kyrgyzstan is one large countryside. Our destination today is Song Kul Lake, a giant blue freshwater body surrounded by mountains in all directions. As we get closer to the lake, we are getting into the higher regions and yurts start appearing in the horizon. Soon we are in shepherdland and start encountering small flocks escorted by shepherds on horse backs. Horses roam on the slopes and so do cows and sheep. This seems to be a region straight out of fairy tale – rolling meadows, gurgling streams, small habitations dotting the slopes and suddenly we have our first view of the huge, deep-blue Song Kul Lake.
This evening, if we have time, we will spend time visiting shepherd families in their yurts and outside among the slopes. And to end the day, we line up on the lake shore to witness what could be a colourful sun setting behind the mountains across the lake.
We will be staying in yurts managed by shepherd families tonight and tomorrow!
Day 03. Photographing the nomadic shepherd life around Song Kul Lake
The day will be spent driving along the meadows surrounding Song Kul Lake, visiting shepherds out in the slopes with their sheep and horses, and perhaps also visiting their yurts. The shepherds are usually welcoming and happy to spend a bit of time with the visitors, while our translator/guide will ensure that you can communicate with them. Look for a very well-spent day understanding the life of the shepherds and making a variety of images along the way.
Day 04. Drive to Naryn (About 3.5 hours)
After two days in the mountains, we are now back in a town. Naryn is a small town in the middle of the mountains and is our gateway to higher regions tomorrow. As we would have now got accustomed to, we will be driving through scenic mountainous landscapes through several beautiful meadows, stopping along the way for photography opportunities.
We will have time to explore the town this evening, walking along the only main road and admiring the well-kept lanes with several soviet-era housing and commercial buildings mixed with more modern structures. Some of you might find delight in finding good coffee in town that might just make your day more enjoyable.
Naryn has a very positive vibe. It's been a relatively easy day, and we will spend the evening discussing on previous days' photography and mulling over what we will be doing in the next two days.
Day 05. Drive to yurt camps at Kol Suu (About 4.5 hours)
We are heading to the higher regions today. Within half-an-hour of leaving Naryn, the snow-peaks make it apparent that we are moving to higher grounds. The landscapes along the way, sometimes wide open meadows, sometimes alpine-tree landscapes, all flanked by snow peaks that dominate the views.
We may have opportunities to photograph more shepherds against dramatic landscapes along the way.
We reach our camps for a late lunch. The campsite is breathtakingly beautiful, you will probably forget lunch and scramble for your cameras as soon as you are out of the car. Tonight and tomorrow, we stay in yurt camps that are located close to a wide river bed and has great views of snow-peaks.
Day 06. Photography in the surroundings and visit to Kol Suu Lake
We will spend some time early in the morning before breakfast photographing the landscapes in the surroundings. After breakfast, we will spend a few hours photographing the few shepherds who live in the area, against the magnificent snow-peaks in the background.
After lunch, we will visit Kol Suu Lake, a 1.5 hour horse ride away. The way to lake is magnificent, and involves riding along (and subsequently crossing) a river that originates from the lake. We will spend leisurely time in the lake. On our way back, we break the journey half-way to photograph the landscapes..
Day 07. Drive back to Naryn
We return to Naryn today, and reach the town for a late lunch. You think there wouldn't be much to do on a return journey, but you never know what to expect. We may encounter a different set of people, or sometime a change in weather can dramatically alter the landscapes. Our observation is that part of this journey can continue to excite us even though we are retracing the same path.
Day 08. Drive to Issyk Kul Lake (About 4.5 hours)
Issyk Kul is known to be the tenth largest lake in the world by volume of water held, and the second largest lake at such high altitude. Except on perfectly clear days, you can't see the opposite shore unless you carefully try to identify the barely visible pattern of mountains. Issyk Kul is surrounded by high mountains all around, several of them studded with huge reserves of snow. The water of the lake is transparent enough that at some places you can clearly see stones as deep as two meters.
We will reach Issyk Kul late in the afternoon and check-in to our hotel not far from the lake. We will have time to walk along the lake shore and enjoy the breeze and the sunset. Swimming in the lake is possible, and recommended.
Day 09. Photographing the Eagle Hunters
Central Asia's falconry and eagle-hunting practices are legendary. Today, we will have an opportunity to meet an eagle hunter and watch the eagles fly up and land on the hand of the master. We will spend the morning hour interacting with and photographing the eagle-hunters. The birds—Golden Eagles—are so large and so graceful that you will instantly fall in love. They have a wingspan of about as much as five feet! And then they have such powerful and capable talons that you will want to keep as far from them as possible!
Day 10. Drive to Bishkek (About 4.5 hours)
We drive to Bishkek this morning and enjoy a relaxed afternoon. This will also be an evening to exchange notes, look at each other's images from the tour and discuss about the experiences and talk about photography through the evening. We will follow up with a farewell dinner.
Day 11. Departure
Check-out after breakfast at your convenience and drive to airport. Tour ends
Kyrgyzstan Photography Tour – Travel Information.
---
Accommodation
---
Accommodation will be in comfortable hotels in Bishkek, Naryn and Issyk Kul.

We will be accommodated in a well-equipped hotel in Bishkek. In Naryn and Issyk Kul, the hotels are comfortable and well-managed.

Accommodation will be in yurts in Song-Kul and Kel-Suu.

The yurts are circular summer dwelling made from fabric, sheep-skin and similar materials. They are more like an upgrade from camping in tents. They are, however, equipped with comfortable and warm beddings and have plenty of room to move around. Please note that we may not always be able to provide private rooms/yurts in these places. They are more like shared spaces and may sometimes require to accommodate more than two persons in each yurt.
Travelling to Bishkek, Visa and Arrival Information.
---
Flights:
Here is a quick look at options to fly in to Bishkek. These are not comprehensive, but provide a good idea on some ways to get in.
Bishkek's Manas International Airport (Airport code: FRU) has direct connections from Delhi, Dubai, Istambul and several Russian airports.
If you can't find a direct flying option or you don't find it convenient to fly through any of the above airports, perhaps the next best option is to arrive in Bishkek via nearby Almaty. Almaty (Airport code: ALA) is just 45 minutes flying time from Bishkek across the border in Kazakhstan and passengers transiting through the airport do not require a visa. Almaty International Airport is well-connected with most of the major hubs in Asia and Europe.
Visa:
For citizens of most countries where visa is required, a visa can be obtained online at
http://www.evisa.e-gov.kg/
There is a long list of countries for which Kyrgyz visa is not required or can be obtained on arrival. Please see your entry/visa requirement at
http://evisa.e-gov.kg/eligibility.php?lng=en
Weather.
---
Bishkek, Naryn and Issyk Kul area have pleasant to cool weather, with daytime temperatures hovering in lower twenties (Celcius) and night time temperatures from ten to twenty.
Song Kul Lake will have similar day time temperatures. The night time temperature may drop to single digits.
In the yurts at Kol Suu, daytime temperatures generally stay below 20C (usually upper teens) and it may reach freezing point at night time.
It usually doesn't rain much in Kyrgyzstan. While rainfall can occur in any season, it rarely lasts long enough to spoil an entire day's plan.
Food, and choice of vegetarian food
---
Traditional food bases in Kyrgyzstan includes a circular flat-bread, noodles, dumplings and rice. Perhaps one of the most popular Central Asian dishes that has travelled across the world is pilaf/plov/paloo/pulao, a preparation of rice and spices
(This is the best we photographers can do to describe food!)
.
Vegetarians can sail through comfortably in Kyrgyzstan, but this may require that you speak Russian or have someone who can explain your food preference. For vegetarians travelling in our group, our guides will ensure that they are fed properly, but do not expect a lot of variety. Thanks to a steady stream of European travellers who are asking vegetarian food, restaurants and yurts in many parts of Kyrgyzstan including remote yurt camps understand what vegetarian food is, and are happy to provide. We once found ourselves without a translator in a faraway mountain yurt, and when we said 'vegetarian,' the lady nodded and made a preparation of rice and a vegetable stew that would go down as one of our best meals in the country.
In the yurts, you are normally served a set meal that includes a salad, soup and a main course. As always, our tour guides will ensure that requests for vegetarian food is addressed. In most yurt-camps, there will be a selection of bread, dry fruits, chocolates and fresh fruits that are always available on the table to supplement the meal.
Menus in restaurants usually have little vegetarian foods on the menu, but are always willing to listen to a vegetarian's requirement and prepare something suitable.
Safety & Security
---
While we recommend that you make a note of standard and recommended safety precautions and travel advisories from your government, our own experiences in travelling Kyrgyzstan is that the country feels very safe, secure and easy to travel in without any concerns. Our impressions of Kyrgyzstan is that it is perhaps as safe and worry-less that travelling anywhere can be, although we recommend that you always heed to any safety and security related advisories.
Your Photography Mentor on This Tour – Arun Bhat.
---

The mentor on board this is our renowned travel photographer Arun Bhat.
Arun Bhat is a multiple award-winning, internationally published photographer with more than a decade of experience behind the camera. He has conducted workshops and tours in several locations across Asia, including Dubai, Myanmar, Cambodia, Bhutan and destinations all over India. Arun us a winner of prestigious HIPA awards Dubai and Tamaron Challenge India.
You can find his works at www.paintedstork.com
While he has exposed himself to multiple genres of photography that expands to travel, studio work, real-estate, landscapes and much more, he is more known for his prowess in travel photography. His experience has helped him emerge a master in composition, storytelling and in framing the right moods at the right moment.
Arun has been mentoring photography enthusiasts for than five years now, designing and conducting a variety of photography workshops and tours that help people elevate their photography beyond conventionally recognized ideas.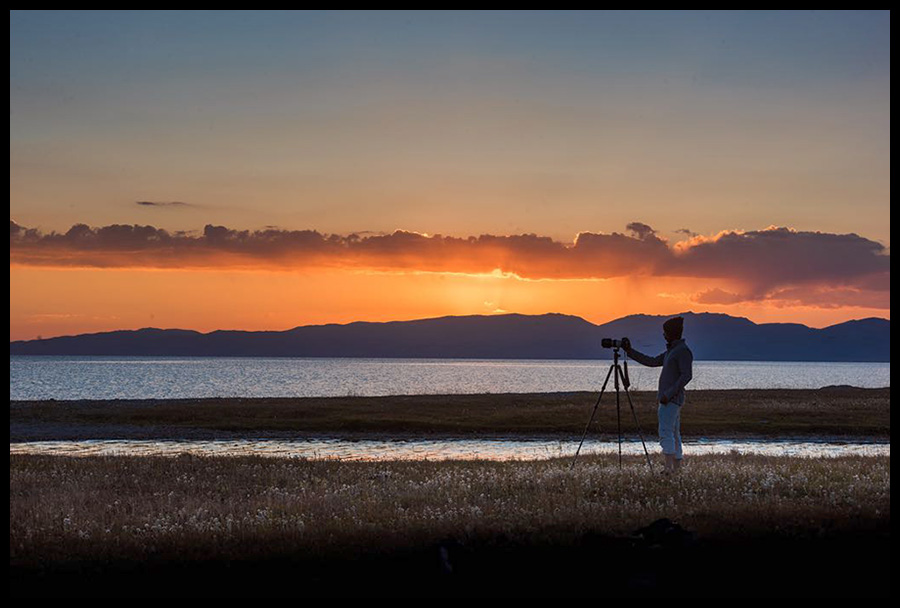 Tour Price & Inclusions.
---
Tour price: US$ 2,895 / ₹185,280
Booking fee: $895 / ₹55,280; balance payable by 5th March 2019
Inclusions
Accommodation on twin-sharing basis. Please add $435 for single supplement.
All meals starting with dinner on Day 1 and ending with breakfast on the last day.
Airport pickup and drop-off at Bishkek.
Ground transport on all days.
Photography related services as mentioned in the itinerary.
Services of your photography mentor during the tour.
Exclusions
Sign Up for this tour today.
---
Contact us at the email/numbers below to book the tour.
email: photography@darter.in
Tel: 9880006460 (Arun) / 97400 83260 (Shreeram)
Alternately, fill in the following form to get in touch with us regarding the tour.