Core Team
Arun Bhat – Co-founder, Director, Photography Mentor

Accomplished travel and landscape photographer Arun Bhat's works have been used by publications in India and across the world, all the way from Japan to USA. He is a professional photographer who has extensively travelled across India, creating some of the finest imagery of India's landscapes and heritage sites.
Having travelled the country many times over and being used to waking up at 5am in bitter cold winter days, he has seen and captured finest landscapes all the way from Himalayas to the peninsular India. Arun's extensive travel has made him an expert in finding the right locations and the time of the day for photographing the splendors of every place he visits. His work is showcased at paintedstork.com
Shreeram M V – Co-founder, Director, Photography Mentor

Shreeram is a professional wildlife photographer and a passionate naturalist. His wildlife images are widely acclaimed and have been featured in reputed magazines like National Geographic Traveller and Sanctuary Asia. An IIM Bangalore alumnus, Shreeram chose to follow his passion of wildlife photography over a career in the corporate world. He has volunteered as a naturalist at Jungle Lodges and Resort's River Tern Lodge at Bhadra and Kabini River Lodge.
Shreeram has photographed wildlife across multiple habitats through most of India – from rainforests to grasslands, from the mountains to the coasts, from deciduous forests to mangroves. He enjoys photographing nature in all its forms and sizes, from tiny spiders to the mighty elephants. His personal favorites are birds and he hopes to see and photograph every single species of birds found in India. See some of his works at Visual Quotient
Prasad N – Chief Evangelist

Prasad is the Chief Evangelist at Darter Photography.
He comes with decades of experience in start-ups as well as well established global companies where he headed India Operations. Prasad has scaled up operations from scratch and built business in multiple domains as varied as healthcare to financial services for global companies across geographies servicing portfolios worth billions of dollars.
As the itch to click got stronger he decided to switch to photography and writing full time. Prasad refuses to be labeled and clicks people, wildlife and travel pictures with equal passion. He writes the popular travel blog from India desi Traveler, and his work has appeared in both online and print media. He takes care of building and growing new markets, business, partnerships and all our social media platforms for Darter.
Sreedevi – Operations Manager

 Sreedevi is a Bangalore based artist who is driven by passion for self expression through photography. This highly imaginative photographer began her journey as an engineer in Electronics and Telecommunication, but soon veered towards her creative calling and pursued a degree in photography from Collin college, Plano Texas.
As a freelance photographer, she has worked with various e-commerce clients. She enjoys working with kids and loves to candid capture their innocence. You can find some of her work at Sreedevi's Photography
Photography Mentors
Pratap J Rao – Travel, Landscapes and Post-processing

Pratap J has been shooting and processing digital for nearly 7 years. True to his screen name 'pixelshooter', he's purely a digital photographer who has mastered not just framing with camera, but the entire digital workflow from clicking to processing to printing. He has over 5 years of experience working on popular image editing tools, and he continues to coax the pixels in his photos in new ways, to bring out their best. He is also obsessed with liberating his photographs from the confines of his computer by producing high quality inkjet photo prints. His post processing skills are put to test here, because prints are less forgiving than computer displays. He enjoys landscapes, nature and architectural photography. You can see his online work at pixelshooter.net
Manish Lakhani – Travel Photography

Few people can boast of having travelled the high Himalayas like Manish has. For more than a decade, he has wandered these mountains on foot, on bicycles and on two and four wheels exploring the corners of the mountains and often making his own path. With this experience, he can also boast of a vast collection of magnificent images of these mountain ranges that can be a cause of everyone's envy.
Manish was born with a love for mountains, which has carried him back to Spiti, Ladakh and other highlands many times over. He has captained some incredible expeditions in the high mountain regions, including the venerated Chadar Trek, which he has led nearly half-a-dozen times during the winter months in Ladakh. Besides being an experienced photographer, he is also a keen cyclist and a mountain enthusiast.
More of his work can be seen at withmanish.com and facebook.com/PhotographyWithManish.
Radha Rangarajan – Wildlife Photography

Radha Rangarajan is a wildlife photographer and an avid birder. She has travelled and photographed a wide variety of wildlife and landscapes from the grasslands of Corbett to the rainforests of the Anamalais. She specializes in macro and bird photography. She is an aesthete, creative and offbeat compositions are her forte. Radha has presented her images in many forums and publications. She has undergone the Naturalist Training Program conducted by Jungle Lodges & Resorts and has had a short stint as a naturalist at their resort in the Bhadra Tiger Reserve.
Pradeep MR – Lighting and Product Photography
Pradeep MR is a professional commercial photographer based in Bangalore. He has successfully accomplished product shoots for many high-profile companies & business establishments like Biocon, Grindwell Norton Ltd, and HMT. He shoots regularly for various e-commerce companies & on-line portals.
Pradeep MR is currently a photography consultant with myntra.com. Pradeep mentors our Level PRO workshop on product photography.
Deeba Rajpal – Food Photography & Styling

Deeba Rajpal is a passionate & rabid baker, she loves creating recipes using local healthy produce. Her love for her craft is visible in the images she creates. Deeba's work has been showcased on TV channels, books, newspapers, and magazines both in India and abroad. Her images can be seen on her blog Passionate About Baking. Deeba mentors our Food Styling and Photography workshops.
Anuroop Krishnan – Wildlife Photography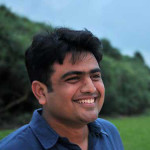 Anuroop Krishnan is a marketer by profession. He is from Bangalore but is currently based out of Gurgaon. He has traveled extensively across the country and has experienced wildlife through photography. He loves to document the not so well known forms of life, which exist in the same places we do; or in the same places we travel to. He tries to depict subjects in their natural surroundings, in an endeavor to build the significance of habitats and their conservation among people who view his images. Anuroop has been photographing wildlife for over eight years now.
His photograph of the Chinkara (Indian Gazelle) was recently published on the cover of the Sanctuary Asia Cub magazine. An earlier image of a tigress was published on the back cover of the same magazine. He has also been featured in the Better Photography magazine's expert panel, and has shared his views on wildlife photography. He has won a number of photography awards, including the Photographer of the Year, for the Macro category in Better Photography's Photographer of the year contest, India'a largest photography contest.
You can see more of his work on www.anuroopkrishnan.com and www.facebook.com/anuroopkrishnanphotography. Anuroop mentors our Workshops and Wildlife Photography Tours.